Fountain
Fountain The Hyaluronic Molecule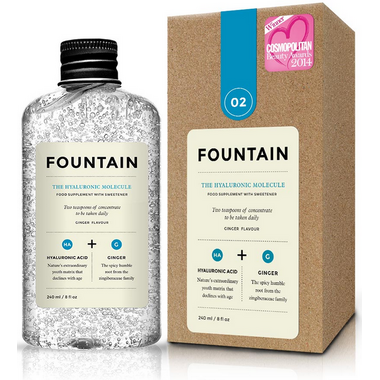 Fountain
Fountain The Hyaluronic Molecule
Description
The Hyaluronic Molecule is a concentrated beauty supplement with Hyaluronic Acid to keep your skin looking plump and happy from within.
Features:
HYALURONIC ACID: This formula contains a high concentration (130mg/2 teaspoons) of Hyaluronic Acid which is an anti-inflammatory, hydrating compound found readily in the skin, joints, eyes, and the brain. Hyaluronic Acid is referred to as nature's own lubricant and declines with age.
XYLITOL: Sweetened with natural Xylitol which also contributes to dental health.
1000 TIMES ITS WEIGHT: Hyaluronic Acid is able to hold 1000 times its weight in water and as the body's own hydrator, keeps our joints mobile, our eyes lubricated and our skin soft, supple and smooth.
VEGAN HYALURONIC ACID: This formula is a vegan-friendly source of pure food-grade Hyaluronic Acid. The high viscosity of the product is from the high concentration of Hyaluronic Acid.
SAFE: This formula is free of artificial colours and flavours and is suitable for both adult men and women.
How to Use:
Take two teaspoons (10ml) per day either directly or mixed with your favourite juice or beverage. Do not mix with dairy products. This product is a supplement to and not a substitute for topical skin care products.
Warning:
Do not exceed 2 teaspoons per day. Food supplements should not be used as a substitute for a balanced diet and a healthy lifestyle. Consult with a doctor if you're pregnant, breastfeeding or are taking medication. Keep out of reach of children. Keep away from sunlight and heat. Do not freeze. Consume within 3 months once opened.
Shipping & Returns