Julian Bakery Instaketones Protein Bar Orange Burst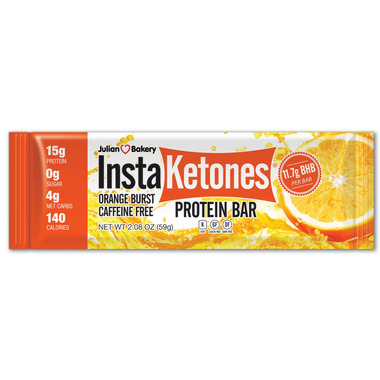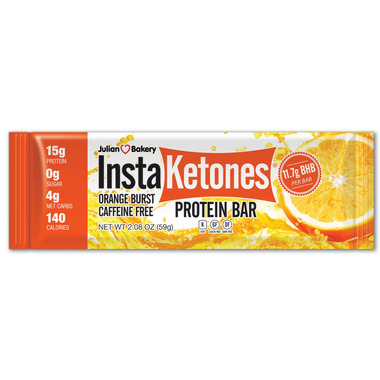 Julian Bakery Instaketones Protein Bar Orange Burst
New! InstaKetone® Bar providing 11.7g of BHB (Ketones) per bar. Boost ketone levels into healthy fat burning range by up to 2.0 mmo/L within 40 minutes. This bar is specifically designed to be a meal replacement bar for the IKDiet® (Phase 1 or 2) as it curbs appetite and cravings up to 4hrs or longer. This bar improves endurance, mental clarity, fat loss, and provides sustained energy making it the ideal fuel for any sort of fitness activity.

Features:
11.7g BHB Per Bar (Measurable Blood Ketones In 45 Min Or Less)
(No Stimulants) Makes Keto Or The IKDiet® Easy
Licensed Under Two U.S. Patent Numbers: US009138420B2 US006613356B1
IKDiet® Phase 1 & 2 Approved : (Pair Protein & Vegetable Diet For Max Results)
Sweet Orange Tart Taste (Easy To Mix) (12 Bars) Meal Replacement
Ingredients:
Egg White Powder, Organic Digestive Resistant Prebiotic Fiber (From Organic Tapioca) Organic Sunflower Butter, Beta Hydroxybutyrate (BHB), Amino Acid Blend (L-Taurine, L-Tyrosine, L-Leucine), Calcium, Sodium, Citric Acid, Orange Extract, Lou Han Guo (Monk Fruit).
Allergen: Egg (Made In A Facility That Processes Tree Nuts) (Dedicated Gluten Free Facility)

Note:
Ketones pull sodium from the body so we bind our ketones to sodium to replenish.