Kiss My Face
Kiss My Face Active Life Aluminum Free Deodorant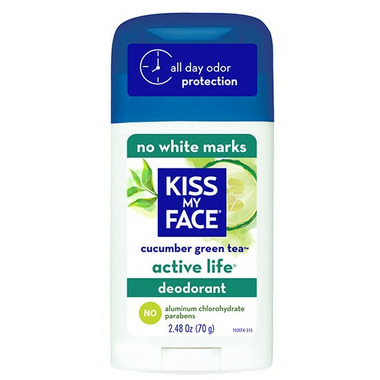 Kiss My Face
Kiss My Face Active Life Aluminum Free Deodorant
Cucumber Green Tea
70 g
Kiss My Face Active Life Aluminum Free Deodorant
is rated out of
5
by
15
.
---
Description
Be fresh! Kiss My Face Active Life Aluminum Free Deodorant's clinically proven formula will keep you fresh and confident all day long. Time tested botanicals and effective odour absorbing ingredients work outrageously well in this naturally scented, cooling formula.

Ingredients: Propylene Glycol, Water, Sodium Stearate, Aloe Barbadensis (Aloe Vera) Leaf Juice, Hamamelis Virginiana (Witch Hazel) Distillate, Zinc Ricinoleate, Steareth -100, Polyglyceryl-3 Caprate, Glyceryl Stearate, Citrus Grandis (Grapefruit) Seed Extract, Sucrose Cocoate, Vegetable Glycerin, Rosmarinus Officinalis (Rosemary) Leaf Extract, Salvia Officinalis (Sage) Leaf Extract, Coriandrum Sativum (Coriander) Seed Extract, Thymus Vulgaris (Thyme) Leaf Extract, Camellia Sinensis (Green Tea) Leaf Extract, Humulus Lupulus (Hops) Leaf Extract, Sodium Bicarbonate, Ethylhexylglycerin, Silica, Natural Fragrance


Highlights

Rated

3

out of

5
by
Sherrie
from
I like the feel and texture of this product. It seems to do what other deodorants do which is to provide some help controlling odor. But, unless one is using an anti-persperant, it is virtually impossible to go a whole or even half day without evidence that we are human! So, this product works as well as some others I've tried, but I find the cucumber smell quite pungent. More of a manly smell, I think.
Date published: 2014-02-11
Rated

1

out of

5
by
Thomas
from
I wanted to like this deodorant, but... It gets one star for the pleasant and subtle scent, which I like. Unfortunately I had a bad reaction to the product, my underarms burning red after an hour, and I had to wash it off. Same effect when I tried it again a few days later. I've gone back to using the slightly less convenient but effective and non irritating deodorant crystal.
Date published: 2013-04-09
Rated

1

out of

5
by
Melissa
from
I was excited to try this deoderant as I am striving to be more environmentally conscious and toxicity conscious but I found that this deo was very harsh on my skin. My underarms felt like they were burning and I developed a rash and peeling skin. The smell was great but definitely didn't last all day. I was quite disappointed :-(
Date published: 2017-01-21
Rated

4

out of

5
by
Kory
from
I rated this deodorant a 4 as I haven't worn it in summer yet, which is the real test of a product like this, I think! I have been using it regularly since buying it a few weeks ago, and so far, I like it. It seems to do the job. I like the cucmber scent and it doesn't sting when applied. Looks like a product I will keep using.
Date published: 2012-02-17
Rated

5

out of

5
by
Sabrina
from
I was really impressed with this deodorant. I have been trying as many natural and aluminum free deodorants as I can find and what I love about this one is how light weight it is, I find that most natural deodorants are heavy and almost like a paste , it goes on clear leaves no marks and smells great through full day wear.
Date published: 2017-04-28
Rated

5

out of

5
by
Suzanne
from
I have had a hard time finding a natural, aluminum-free deodorant that actually reduces odor and sweat. This one does both effectively, and has a subtle and pleasant scent to boot. I'm very glad to have discovered this product.
Date published: 2013-01-28
Rated

5

out of

5
by
emily
from
I had never had any interest in "natural" deodorants before, but I've becoming increasingly aware of how chemicals affect my body, specifically triclosan. I love the scent and it really does work - I'm dry all day.
Date published: 2013-10-31
Rated

2

out of

5
by
Ashley
from
Works great. Smells great. But leaves a film that peels and looks horrible like a sunburn. You have to scrub hard to try and get it off and for me with super sensitive skin this is hard on the skin.
Date published: 2016-09-16