Klean Kanteen Bottle Brush Set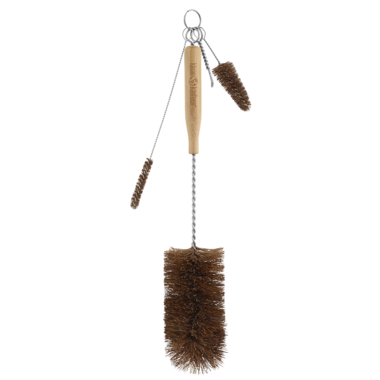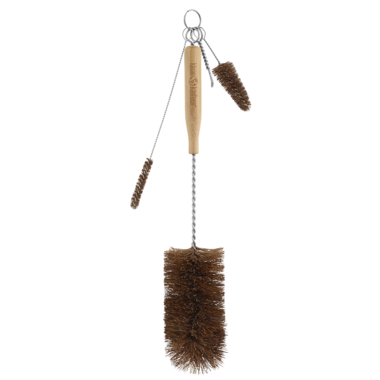 Klean Kanteen Bottle Brush Set
Klean Kanteens Bottle Brush Set provides everything you need to clean your Kanteens using natural materials and absolutely no plastic. Made of sustainalbly harvested bamboo, natural palm fiber, and stainless steel.
Features:
Bottle Brush, Straw Brush, Cap Brush and Gasket tool
All brush bristles ane made of natural palm fibers
The sustainably harvested bamboo handle includes a loop ring keeping all of the brushes/gasket conveniently together and providing a hang up storage option as well
Amy:
a few months ago
This is not my favorite but it gets the job done. I have a 64oz clean kanteen water bottle and some David's tea thermos' I was having trouble cleaning. It does the job, gets really sudsy. The bristles are hard so definitely need some time to be worked in so you have to pull the brush out of a bottle slowly or you'll get soap everywhere. The straw cleaner is too large for my reuasble straws but they came with their own brushes but it would be nice to have it all in one. It does have a bit of an odor but nothing that remains in the room or in the bottle once cleaned. If you're looking for a brush set that is compostable and zero waste like I was I would still reccomemd this over buying a plastic set.
Charity:
a few months ago
This is not a very good product. I was really excited to get it, as it's quite annoying to try to properly clean my water bottles and coffee thermos, but this didn't work very well and it was messy! The bristles are very stiff, so every time I pulled it out of the bottle it sprayed soapy water all over me and the counter. And regardless of how much I scrubbed I couldn't get all of the staining out of the thermos, which was my main reason for buying these.
The brush that is supposed to be for cleaning the caps is too big to properly clean the toddler water bottle cap and I couldn't use the straw brush for that as it has no bristles at the end.
Also, the palm fibres that are used for the brushes have quite a strong odour, which further adds to the unpleasantness of using them.
I'll be sticking with using a scrubby cloth and wooden spoon, as it works much better and isn't as messy!
Page
1