Kyolic Immune Booster Formula 103
Immune Enhancer With Antioxidant
90 Capsules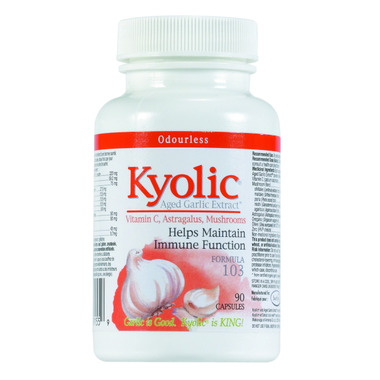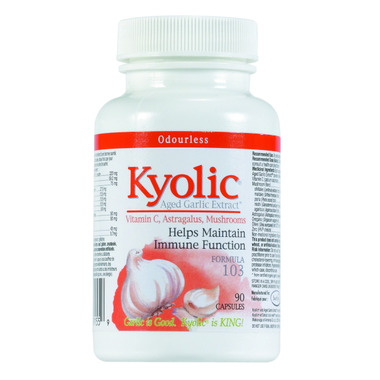 Kyolic Immune Booster Formula 103
Immune Enhancer With Antioxidant
90 Capsules
Boost your immune system with Kyolic Formula 103 - a synergistic combination of Aged Garlic Extract™ blended with an impressive list of immune boosters and antioxidants:
Vitamin C
Power Mushroom Complex (maitake, poria cocos, reishi, shitake, agaricus)
Astragalus Root
Oregano Leaf
Olive leaf
Each of these ingredients have been proven to enhance various essential immune factors such as macrophages, T-lymphocytes, natural killer-cell activities and anti-body generation. Together, the sum of their benefits may be the answer to optimizing your fight against the common cold and allergies.

FREE OF: sodium, yeast, dairy, preservatives, sugar, gluten, artificial colors or flavors

NUTRIENT POTENCY:
Kyolic Aged Garlic Extract Powder 220 mg
Vitamin C (Calcium Ascorbate) 75 mg
5 Mushroom complex (Maitake, Poira, Reishi, Shitake, Agaricus) 75 mg
Astragalus Root 50 mg
Oregano Leaf 50 mg
Olive Leaf 40 mg

Megan:
more than a year ago
I have been taking these for a few years, as needed - during the cold and flu season, or when people around me are sick. I can attest to the effectiveness of these as an immune booster! I have avoided becoming sick at times when the rest of my household got sick, or when there have been lots of sick people out and about on public transit - which I travel on frequently. I have also used these to get better faster when I am sick - with results! Plus the ingredients are antioxidants and are good for you!
1