Kyolic
Kyolic Immune Booster Formula 103
Immune Enhancer With Antioxidant 90 Capsules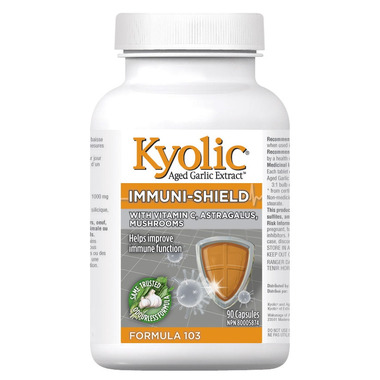 Kyolic
Kyolic Immune Booster Formula 103
Immune Enhancer With Antioxidant
90 Capsules
---
Description
Boost your immune system with Kyolic Formula 103 - a synergistic combination of Aged Garlic Extract™ blended with an impressive list of immune boosters and antioxidants:
Vitamin C
Power Mushroom Complex (maitake, poria cocos, reishi, shitake, agaricus)
Astragalus Root
Oregano Leaf
Olive leaf
Each of these ingredients have been proven to enhance various essential immune factors such as macrophages, T-lymphocytes, natural killer-cell activities and anti-body generation. Together, the sum of their benefits may be the answer to optimizing your fight against the common cold and allergies.

FREE OF: sodium, yeast, dairy, preservatives, sugar, gluten, artificial colors or flavors
Recommended Dosage: Adults: Take 2 capsules twice daily. For prolonged use, consult a health care practitioner.
Highlights

Features
Aged Garlic Extract [220 mg]; Premium Mushroom Complex [75 mg]; Vitamin C [52.5 mg]; Astragalus Extract [50 mg]; Oregano Extract [50 mg]; Olive Leaf Extract [40 mg] (per capsule).
Recommended use: A source of antioxidants to enhance the immune system.
Kyolic Aged Garlic Extract formulas are odourless and gentle on the stomach, thanks to the unique aging process.
Free of: GMOs, sodium, yeast, preservatives, sugar, gluten, soy, artificial colours or flavours.
Ingredients
Aged Garlic Extract powder (Allium sativum*) 3:1 bulb extract (660 mg dried equivalent) 220mg, Vitamin C (calcium ascorbate) 59.2mg Mushroom Blend 75mg [shiitake (Lentinula edodes) body, mycelia 27.0mg, maitake (Grifola frondosa) body 13.5mg, poria (Poria cocos) body 13.5mg, reishi (Ganoderma lucidum) mycelia 13.5mg, agaricus (Agaricus blazie) body 7.5mg,
Shipping & Returns