Let's Do...Organic
Let's Do...Organic Unsweetened Coconut
Finely Shredded For Baking 250 g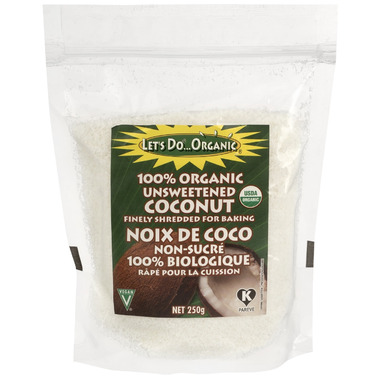 Finely Shredded For Baking
250 g
---
Description
There is nothing like the smell of baking with real coconut. The rich nutty fragrance holds the promise of tasty coconut pie or yummy macaroon treats.
When your most beloved recipes call for coconut, why settle for conventional baking coconut, which is often laced with sugar, additives or preservatives? Now home bakers everywhere can choose Let's Do…Organic finely shredded coconut, and coconut flakes as an organic alternative.
Features
:
Organic
Gluten Free
Vegan friendly
No Added Sulfites or Preservatives
Kosher
Ingredients:
Organic Coconut (shredded and dehydrated). Color may vary as this product contains no sulfites.
Highlights

Shipping & Returns