Energy & Vitality
60 Capsules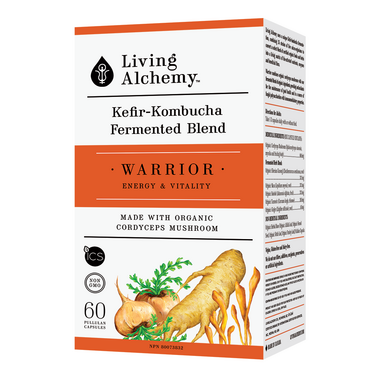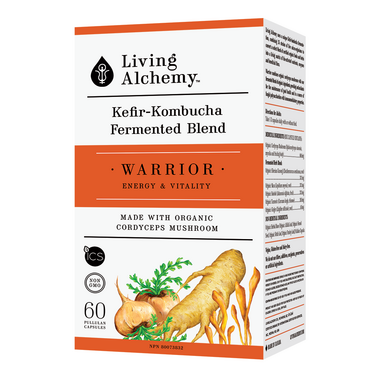 Living Alchemy Warrior
Energy & Vitality
60 Capsules
Living Alchemy Warrior uses a unique Kefir-kombucha fermentation, combining 35 strains of live micro-organisms to convert a select blend of certified organic foods and herbs into a living matrix of bio-activated nutrients, enzymes and beneficial flora.
Unleash your inner warrior with this potent blend of fermented roots and organic Cordyceps. Warrior is a bio-activated blend for performance and vigor.

Features:
Free from excipients, binders, additives, and any artificial ingredients or chemicals at every stage of manufacture
Living Alchemy is certified organic by International Certification Services Inc.
Gluten and dairy free
Non-GMO
Suitable for vegetarians and vegans
Formulated by a qualified nutritional therapist
Directions:
Adults: Take 1-3 capsules daily with or without food.
Ingredients:
Organic Cordyceps Mushroom 66.6mg (Ophiocordyceps sinensis, mycelia and fruiting body) Fermented Herb Blend: Organic Siberian Ginseng 33.3mg (Eleutherococcus senticosus, root), Organic Maca 33.3mg (Lepidium meyenii, root) Organic Baobab 33.3mg (Adansonia digitata, fruit) Organic Turmeric 26.6mg (Curcuma longa, rhizome) Organic Ginger 6.6mg (Zingiber officinale, root) Non-medicinal Ingredients: Organic Herbal Base (Organic Alfalfa Leaf, Organic Fennel Seed, Organic Nettle Leaf, Organic Parsley Leaf), Pullulan Capsule
Caution:
Consult a healthcare practitioner if symptoms persist or worsen, or if you have gallstones, bile duct obstruction, stomach ulcers, excess stomach acid, any type of acute infection or if you are pregnant or breastfeeding. Do not use if you have high blood pressure.

Please be advised that Well.ca follows manufacturer guidelines for storing & shipping probiotics.