Nature's Bounty Time Release Extra Strength 5-HTP 200mg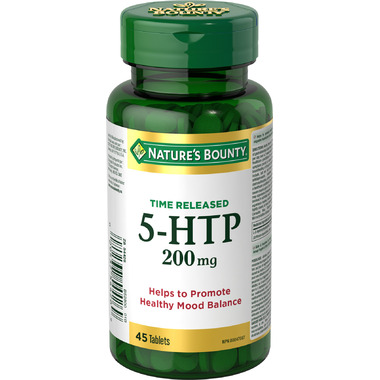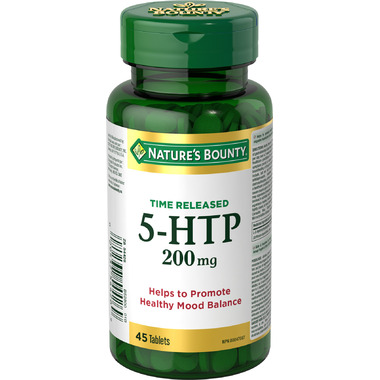 Nature's Bounty Time Release Extra Strength 5-HTP 200mg
- We're sorry, this product is no longer available!
- Shop for other products in: 5HTP

5-HTP helps neurotransmitters in sending messages through the nervous system that contribute to your mood and well-being. It helps maintain a positive outlook and supports a calm and relaxed mood.
These Extra-Strength, Time Release tablets are specifically formulated to provide a gradual release of 5-HTP to provide maximum benefit throughout your day.
Adult Dosage:
Adults, take one (1) tablet, one to three (1-3) times daily. Take with food. To minimize the risk of gastrointestinal side effects, start at one (1) time per day and slowly increase to 3 times per day over a 2 week period. Use for a minimum of 2-3 weeks to see beneficial effects. Consult a health care practitioner for use beyond one year.

Medicinal Ingredients (Each Tablet Contains):
L-5-Hydroxytryptophan (5-HTP) ... 200 mg
Non-Medical Ingredients:
Carnauba Wax, Dicalcium Phosphate, Hypromellose, Magnesium Stearate, Maltodextrin, Microcrystalline Cellulose, Polysorbate 80, Silicon Dioxide, Stearic Acid, Triacetin, Water.
WARNING:
Consult a health care practitioner if symptoms persist or worsen. Consult a health care practitioner prior to use if you are pregnant or breastfeeding. Consult a health care practitioner prior to use if you are taking carbidopa or drugs/supplements with serotonergic activity. These may include, but are not limited to, L-tryptophan, S-adenosylmethionine (SAMe), St. John's wort, antidepressants, pain killers, over the counter cough and cold medication containing dextromethorphan, anti-nausea medication and anti-migraine medication. Discontinue use and consult a health care practitioner if you show signs of weakness, oral ulcers, or abdominal pain accompanied by severe muscle pain or if you experience skin changes. Do not use if you have scleroderma. Some people may experience drowsiness. Exercise caution if operating heavy machinery, driving a motor vehicle or involved in activities requiring mental alertness. Stop use and consult a health care practitioner if you experience nausea, vomiting, diarrhea or abdominal pain. KEEP OUT OF REACH OF CHILDREN. Store at room temperature. Security seal.