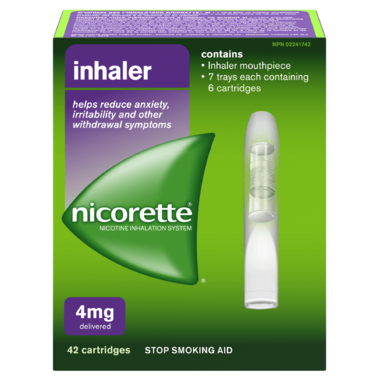 4mg
42 Count
NICORETTE Inhaler
is rated out of
5
by
41
.
---
Description
Nicorette Inhaler is the only inhaler including nicotine clinically proven to help you quit smoking. Containing 4 milligrams of nicotine in each inhaler refill, this product helps fight cravings and unpleasant withdrawal symptoms to help you quit. The Nicorette Inhaler is made up of a mouthpiece and a replaceable nicotine cartridge that lasts for about 20 minutes of frequent puffing. Use the Nicorette Inhaler when you have a craving for a cigarette, up to 12 times a day, and the cartridge will release nicotine to help satisfy your craving. Because it is held just like a cigarette, it will keep your hands busy too. Feel confident in your quit attempt with this smoking cessation aid.
Features:

The only inhaler containing nicotine clinically proven to help you quit
4 mg of nicotine delivered
Helps relieve your cravings and withdrawal symptoms
Keeps your hands busy
A Nicotine Replacement Therapy (NRT) and smoking cessation aid

Directions: Refer to User Guide for additional information prior to use. To be used as part of comprehensive smoking cessation program. Do not use if cartridge tray is damaged or open.
ADULT DOSAGE (>18 yrs): The Nicorette Inhaler may be used to calm the craving for a cigarette and to satisfy the hand-to-mouth ritual of the smoker. For best results, you should use at least 6 cartridges per day for the first 3 to 12 weeks. Do not use more than 12 cartridges in one day. After 3 to 12 weeks of therapy, you can either decide to stop using the Inhaler or slowly reduce the number of cartridges used each day over the next 6 to 12 weeks. If the amounts of Nicorette Inhaler you are taking do not help you stop smoking, talk with your healthcare provider about using more than one type of nicotine replacement therapy at the same time.
Insert cartridge into mouthpiece and inhale deeply into the back of your throat or puff in short breaths. Each cartridge lasts for approximately 20 minutes of frequent continuous puffing. Try different schedules to help control cravings and use the Inhaler at times when you most crave a cigarette. Puffing on the Inhaler for 5 minutes at a time will give you enough nicotine for 4 uses. Puffing on the Inhaler for 10 minutes at a time will give you enough nicotine for 2 uses. In a few days you'll find what works best for you and know when nicotine in cartridge is used up. Use at room temperature (between 15 and 30 °C)
Ingredients:

MEDICINAL INGREDIENT -- Each plastic cartridge delivers 4 mg of nicotine from a porous plug containing 10 mg of nicotine.
NON-MEDICINAL INGREDIENTS -- ethanol, menthol and porous plugs.
Warnings: Do not use Nicorette Inhaler if you: are an occasional or non-smoker, are pregnant or nursing a child, are under 18 years of age, have allergies to nicotine or to menthol

See your doctor before using it if you have: ever had heart disease, a heart attack, heart pain, irregular heartbeat or a stroke, or have ever had high blood pressure, blood circulation problems or treatment for circulation disorders of the brain, asthma, chronic lung problems, throat diseases, thyroid problems, stomach problems, ulcers or inflammation of the esophagus, kidney or liver disease, diabetes requiring insulin or are taking any prescription medications.

Protect from light and humidity. Keep out of the reach of children and pets.
Should you require consultation with a pharmacist, you may contact our Well.ca Pharmacist. Please read the label, warnings and inserts provided by the manufacturer and consult your healthcare professional when purchasing medications or natural health products to be sure the product is right for you.
Dosage: 10 mg/cartridge (4 mg delivered)
We are unable to offer Paypal as a payment option for orders containing this product.
Shipping & Returns
We are only able to ship this item to Canadian customers.
This item cannot be shipped to Quebec due to provincial pharmacy regulations.
Click here for more information
Rated

4

out of

5
by
Kathy
from
Helped me quit after 48 years!
I have been using the inhaler for almost 7 months and it is really helping me stay sane as I try to get over my addiction. It took a while to figure out how much nicotine I really need each day. I started with just the inhaler, one a day. But that was not enough. So then I added the patch and that combination worked for about 4 months. Now I am just using the inhaler, and back to one a day. The best part is being able to hold on to it like I did with a cigarette. My big issue is the shape and feel of the inhaler. It is too short, ugly white, and has sharp pointy bits that bother me. Could you not make it longer, slimmer and completely smooth?
Date published: 2018-03-25
Rated

4

out of

5
by
Abb
from
Very good way to quit smoking.
Having something to hold in my my hands, hand-to-mouth action, drawing/sucking action.... All of these make it a great substitute. I was using a Juul, but it gave me a bad cough, so thank goodness for this. Two things I'm not happy about: 1 - People stare at the mouthpiece, probably because it looks like a tampon applicator! Please make it in a colour other than white, it you can't redesign the shape. 2 - Could we please get more than one holder per box, or some way to buy extra holders? It's hard not to scratch it with my teeth, and I've lost a couple, too. NB: you really have to want to quit.
Date published: 2019-05-27
Rated

5

out of

5
by
Kalymnos
from
It works
I started my nicorette January 3 2018. After 35 years smoking. I used the product for a good 9 days alot then each day after that it was not needed as much I never used all my caps but I held on to them in my bag for about 6 weeks just in case I would get the feeling to smoke but always said to my self I didn't need it all these days. I do not need it now.In 1 month I will be a non smoker for a year and I feel so much better when breathing, walking, going up stairs. Do not get me wrong you have to want to stop too. For it to work.
Date published: 2018-11-27
Rated

5

out of

5
by
Suexo311
from
Life saver!
I began smoking at age 14 and will be 50 next year. Three years ago I gave up cigarettes but picked up a vaping habit, fully knowing it wasn't healthy but rationalizing it by telling myself it was safer than cigs. I tried gum, which works but really needed the hand to mouth aspect that smoking and vaping gave me. This product gives me that satisfaction fully. There is no turning back, I threw away my vape and chargers. To summarize, I am extremely happy I won't be entering my 50s as a smoker!
Date published: 2021-07-30
Rated

5

out of

5
by
Gratefulpatient
from
Lifesaver
I was a 2&1/2 pack a day smoker who switched to e-cigs for economic reasons. I used the e-cig for about 3yrs. then was admitted to hospital where like so many other places now does not allow it. The hospital has provided the patch & quick mist for free. I still wanted the e-cig tho until the inhaler was suggested. The inhaler has been my ultimate solution, I use 3-4 per day. I've been in hospital for just over 4 mths. now & will be here for months to come. I have absolutely no desire to return to the e-cig, the INHALER has been a lifesaver!
Date published: 2018-05-01
Rated

5

out of

5
by
Ryan
from
Great tool in my NRT arsenal
I was a heavy smoker since the age of 15. I used a combination of patches plus the inhaler and was able to quit in 14 weeks. I still bring my inhaler with me if I'm in a stressful environment. I've read some reviews of people saying their cartridges don't work... being Canadian it is EXTREMELY IMPORTANT to keep them out of the cold. If they were frozen at any point they won't work. If defective from store/shipped online, it is probably because they were improperly stored (too cold/hot). I'm so grateful to be smoke free!
Date published: 2021-03-21
Rated

5

out of

5
by
Laura
from
It works! Never felt better.
As a long time smoker, being solely motivated to quit was not enough for me to be successful. This product really made it possible for me to meet my goals of reducing and then quitting by taking the (major) edge off when those cravings hit. Using these inhalers allowed me to keep functioning and feeing like myself, until I felt like myself without them. I like how the inhaler can used so discreetly when you need to (versus smell, vape cloud, patch residue) and it's up to you how much or frequently you use it. From my experience, I recommend getting 2 inhalers incase you misplace one (haha not funny when it happened) so you don't have to stress when it's misplaced. My only dislike is I hope the look of the inhaler is improved. Good luck everyone. You got this!!!
Date published: 2020-10-10
Rated

5

out of

5
by
darrell
from
why did i wait so long
smoked for over 30 years and have tried so many times to quit, with no success. Have been using the inhaler for 14 days (3 cartridges a day) and have had no desire to have an actual cigarette. I never realized how bad cigarette smoke smelled until i stopped. The product is free in British Columbia through the medical system which was a bonus however i would definitely pay for this product had i lived in a part of the world that does not cover through medical. On track to a healthier happier smoke free life :)
Date published: 2019-04-15