NOW Foods
NOW Foods 5-HTP with Tyrosine Capsules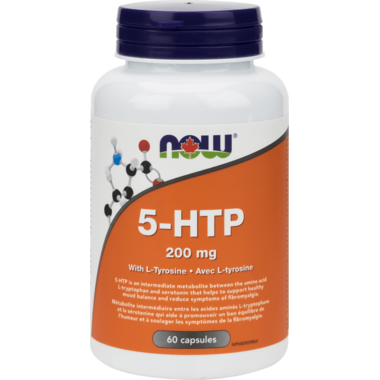 NOW Foods
NOW Foods 5-HTP with Tyrosine Capsules
200 mg
60 Capsules
NOW Foods 5-HTP with Tyrosine Capsules
is rated out of
5
by
4
.
---
Description
NOW Foods 5-HTP with Tyrosine Capsules provides the intermediate metabolite between the amino acid L-tryptophan and serotonin. This is extracted from the seed of an African plant (Griffonia simplicifolia). 5-HTP readily crosses the blood-brain barrier and increases central nervous system (CNS) synthesis of serotonin. Serotonin can affect sleep, appetite, temperature, sexual behaviour, and pain sensation. Serotonin also has a significant role in depression, anxiety, and aggression. 5-HTP is one of the few approved natural therapies for fibromyalgia with the possibility of reducing pain severity, morning stiffness, and sleeplessness. 5-HTP has been shown to increase neurotransmitting catecholamines such as dopamine and norepinephrine that are synthesized from tyrosine. There is speculation that increasing the availability of tyrosine to the brain allows increased neurotransmitter synthesis, which helps to counter the negative effects of stress. The addition of B-vitamins to this formula provides additional synergistic effects as they enhance the metabolism of amino acids.

Features:
5-HTP is an intermediate metabolite between the amino acid L-tryptophan and serotonin
Helps to support healthy mood balance
Reduces symptoms of fibromyalgia
High Potency
Egg free, soy free
Directions:
Adult Dosage: To minimize the risk of gastrointestinal side effects, slowly increase dose to effective levels over a period of 2 weeks. For use beyond 1 year consult a health care practitioner. Fibromyalgia: Take 1 capsule 2 times daily with food. Use for a minimum of 2 weeks to see beneficial effects. Mood balance: Take 1 capsule 1-2 times daily with food. Use for a minimum of 1 week to see beneficial effects.
Ingredients:
Each capsule contains:
L-5-HTP (L-5-Hydroxytryptophan) 200 mg (from Griffonia simpilcifolia Seeds)
L-Tyrosine (Human Hair) 250 mg
Vitamin B-3 (as Niacinamide) 10 mg
Vitamin B-6 (from Pyridoxine Hydrochloride) 3 mg
Non-Medicinal Ingredients:
Capsule (gelatin, water) Magnesium Stearate (vegetable source), Silica.

Caution:
Consult a health care practitioner prior to use if you are pregnant or breastfeeding, following a low protein diet, or if you are taking carbidopa or drugs/supplements with serotonergic activity; these may include but are not limited to: L-tryptophan, S-adenosylmethionine (SAMe), St. John's wort, antidepressants, pain killers, over the counter cough and cold medication containing dextromethorphan, anti-nausea and anti-migraine medication. Consult a health care practitioner if symptoms persist or worsen. Discontinue use and consult a health care practitioner if you show signs of weakness, oral ulcers, or abdominal pain accompanied by severe muscle pain or if you experience skin changes. Do not use if you have scleroderma. Some people may experience drowsiness. Exercise caution if operating heavy machinery, driving a motor vehicle or involved in activities requiring mental alertness. Gastrointestinal side effects including, but not limited to, diarrhea, nausea, vomiting and abdominal pain will occur, but will subside with continued use.
Dosage: 200 mg
Highlights

Shipping & Returns
Rated

5

out of

5
by
Kim
from
This is the only 5-HTP with L-Tyrosine I have been able to find with capsules that have 200 mg. It is very cost effective because I don't have to take as many capsules and the best part is, it works. If I stop taking it, I have trouble sleeping and my mood goes out of control. I have been using this for about 4 months and I highly recommend it.
Date published: 2017-04-25
Rated

5

out of

5
by
Kelly
from
My husband loooves this stuff. It took a month to fully kick in, but shortly after taking it daily he's had no panic attacks! His mood has improved and his sleep. The NOW brand is the best
Date published: 2017-04-02
Rated

5

out of

5
by
Luba
from
This one is good because it is combined with tyrosine. Very good value (at well.ca) for the quality, as most of the "Now" products are.
Date published: 2019-07-24
Rated

5

out of

5
by
Crystal
from
This product has helped my husband with his mood and that's makes me happy 😉 I notice a huge difference if he stops taking them.
Date published: 2018-04-26