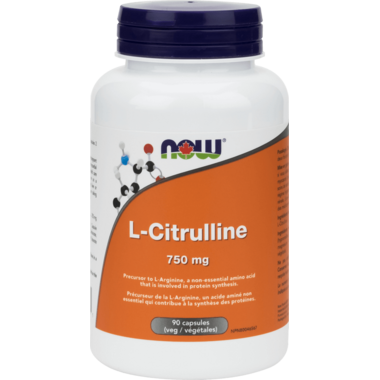 Description
NOW Foods L-Citrulline is a non-essential amino acid that is an important intermediate in the urea cycle, functioning along with other amino acids to rid the body of ammonia, a by-product of protein metabolism.

Features:
Precursor to L-Arginine, a non-essential amino acid that is involved in protein synthesis
Healthy Protein Balance
Vegetarian / Vegan
Directions:
Adult Dosage: Take 2 capsules 2 times daily between meals.
Ingredients:
Each capsule contains: L-Citrulline 750 mg
Non-Medicinal Ingredients:
Veg Capsule (hypromellose, water), Calcium Carbonate, Magnesium Oxide and Magnesium Stearate (vegetable source).
Caution:
Do not use if you are pregnant or breastfeeding, or if you have had a myocardial infarction (heart attack). Consult a health care practitioner prior to use if you are on a low-protein diet, if you have kidney, liver or cardiovascular disease, or if you are taking medications for any of these diseases.
Highlights

Shipping & Returns