L-Citrulline is a naturally occurring non-essential amino acid. Although L-Citrulline is not used in protein synthesis, it has several important functions with respect to amino acid and protein metabolism. L-Citrulline is involved in the formation of urea in the liver; and the synthesis and elimination of urea is essential for removing toxic protein metabolites from the body. In addition, L-Citrulline facilitates protein synthesis for muscle tissue retention and helps to maintain healthy protein balance.
Features:
Cardiovascular Health
Promotes Nitric Oxide Production
Supports Vascular Blood Flow
Suggested Usage:
As a dietary supplement, take 2 capsules daily.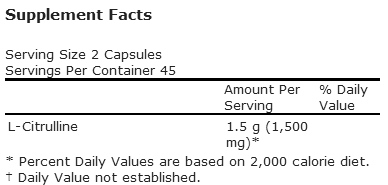 Other Ingredients:
Gelatin (capsule), Calcium Carbonate, Magnesium Oxide and Magnesium Stearate (vegetable source).
Contains No:
Sugar, salt, yeast, wheat, gluten, soy, milk, egg, shellfish or preservatives.
Caution:
For adults only. Consult physician if pregnant/nursing, taking medication (especially hypertensives, nitrates, or other heart medications) or have a medical condition. Keep out of reach of children.


Kirk:
more than a year ago
I am a heart patient and as such have developed circulation issues. My G.P. has given me a blood medication that will assist the flow of blood through my arteries and veins, with the statement "that medication is as far a medical sciences can go." He then recommended a nitric oxide natural booster medicine which L-Citrulline is. It has reduced the poor circulation colour in my feet and as a nitric oxide boost is increasing my circulation health, and hopefully reducing arterial plaque. It is working for me, but I recommend any heart patient consult their G.P. before use.
Page
1