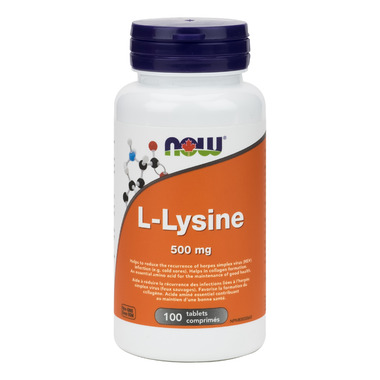 Description
This lesser dose vitamin is suited for everyday users, while the double strength variety is better suited for those suffering from recurrent cold sores or other concerns. L-Lysine is an essential amino acid that must be obtained through the diet or through supplementation. Lysine is necessary for the production of all proteins in the body, and is required for the maintenance of the structural proteins collagen and elastin, which form all connective tissue such as skin, tendon, and bone. L-Lysine supports a healthy immune system which in turn helps to fight cold sores. In addition, L-Lysine is also a precursor to L-carnitine, which is needed for fat metabolism and energy production, which can support good health. Tablet delivery avoids a gelatin capsule and provides a vegetarian / vegan option.
Features:
Essential Amino Acid
Pharmaceutical Grade (USP)
Supports Membrane Health
Vegetarian/Vegan Formula

Ingredients (each tablet contains):
L-Lysine (from L-Lysine Monohydrochloride) Synthetic ... 500 mg

Other Ingredients: Cellulose, Silica, Magnesium Stearate (vegetable source) and Tablet Coating (hypromellose, stearic acid, cellulose).

Highlights

Shipping & Returns