NOW Foods Organic Whole White Chia Seed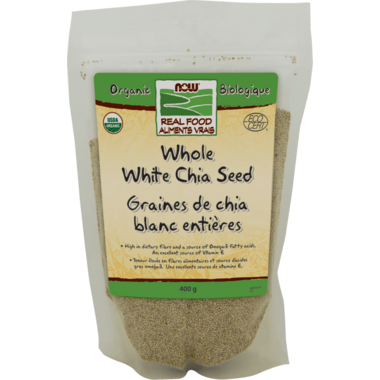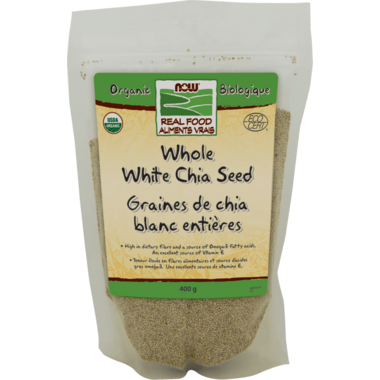 NOW Foods Organic Whole White Chia Seed
NOW Foods Organic Whole White Chia Seed are a tasty treat with a mild flavour that can be eaten on their own or added to many of your favourite recipes. They're also an excellent topping for salads, yogurts, puddings, and more. While most of us know Chia from the popular and peculiar Chia Pets, Chia is far more than a humourous ornamental plant. Chia (Salvia hispanica) is one of the best-known plant sources of healthy Omega-3 fatty acids. Chia Seeds are also an excellent source of fibre and a good source of calcium.
Because you are what you eat, NOW Foods has been committed to providing delicious, healthy, natural and organic foods since 1968. They're independent, family owned, and proud of it. Keep it natural. Keep it real.
Features:
Natural Source of Omega-3 Fatty Acids
Excellent Source of Fibre
Hearty, Nutritious, and Wholesome
Organic - Non-GMO
Corn free, egg free, soy free
Directions: Enjoy NOW organic whole chia seed by sprinkling it over salads, cereals, yogurt or your favourite entrées. Whole chia seed may be added to lemon water or fruit juice to make a traditional Mexican drink known as chia fresca (1.5 - 2 tsp chia per cup of liquid). Refrigeration recommended after opening to maintain freshness.