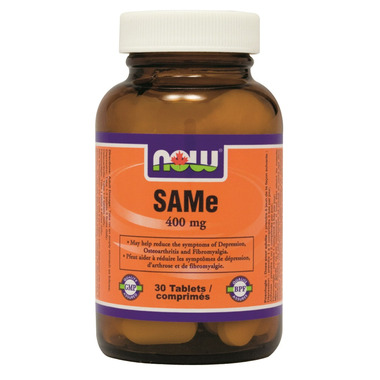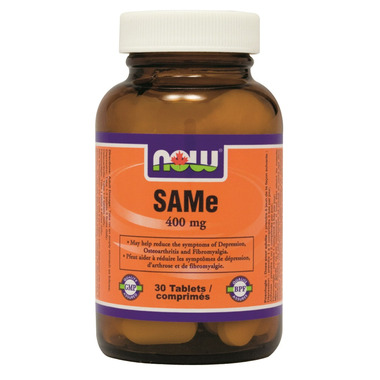 SAMe (S-adenosylmethionine), a compound native to the body, is a critical component of many biochemical reactions, including those that affect brain biochemistry and joint health. Numerous studies have indicated that SAMe can help to temporarily alleviate minor joint discomfort resulting from overexertion or stress. In addition, because SAMe is also necessary for the synthesis of neurotransmitters, it plays an important role in mood support. NOW SAMe is enteric-coated, which makes it very well tolerated and protects it from degradation.
Features:
Nervous System Support
With B-vitamin Cofactors
Supports Emotional Well-Being
Supports Joint Health
Enteric Coated
Vegetarian Formula

Other Ingredients: Cellulose, Croscarmellose Sodium, Methacrylic Acid, Magnesium Stearate (vegetable source), Silica, Triethyl Citrate, Stearic Acid (vegetable source), Citric Acid and Ascorbic Acid.

Contains no: sugar, salt, wheat, gluten, soy, milk, egg, shellfish or preservatives. Vegetarian/Vegan Product.

Jaime:
more than a year ago
I have used this product for two weeks now. I take 800 mg once daily in the morning, and have notice a marked difference in my mood. I feel more hopeful!! I have not noticed any side effects at all....IT is worth trying this natural product as opposed to using SSRI's or any other type of antidepressant prescriptions.
Eric:
more than a year ago
Personally, 400mg SAMe twice a day at first led to intense fatigue but this passed. Excess sweating, a difficulty to cool down after a workout and flatulence did not pass, however, even after 2 weeks usage. I was laughing a lot more, which is good for a positive mood but the laughter was hard to control and at times became a bit much. I think SAMe is a complicated supplement that has great potential.
Page
1