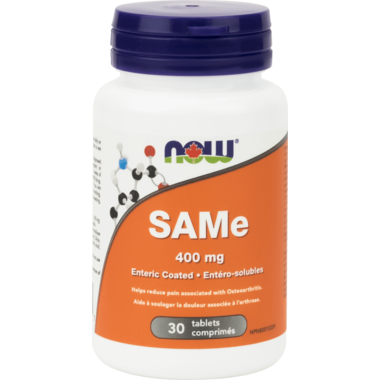 Description
NOW Foods SAMe supplements you with SAMe (S-adenosylmethionine), a compound native to the body. It is a critical component of many biochemical reactions, including those that affect brain biochemistry and joint health. SAMe is critical for the synthesis of neurotransmitters, is important for energy production in the brain, contributes to the maintenance of healthy cell membrane function, and influences cartilage metabolism. NOW SAMe is enteric-coated, which makes it very well tolerated and protects it from degradation.
Features:
Helps reduce pain associated with Osteoarthritis
Enteric Coated
Maximum Strength 400mg
Vegetarian / Vegan
Directions: Adult Dosage: Take 1 tablet 3 times daily on an empty stomach. Use for a minimum of 2 weeks to see beneficial effects. Refrigerate after opening.
Ingredients:
Each tablet contains:

SAMe (S-Adenosyl-L-Methionine)
(from S-Adenosyl-L-Methionine Disulfate Tosylate) 200 mg
Vitamin B6 (from Pyridoxine Hydrochloride) 2 mg
Folic Acid 200 mcg
Vitamin B12 (as Cyanocobalamin) 50 mcg
Non-Medicinal Ingredients: Microcrystalline Cellulose, Croscarmellose Sodium, Magnesium Stearate (vegetable source), Silica, Stearic Acid (vegetable source), Citric Acid, Ascorbic Acid, Tablet Coating.
Caution: Do not use if you have been diagnosed with Bipolar Disorder. Do not use this product within 2 weeks of discontinuing a Monoamine Oxidase Inhibitor (MAOI) drug or if you are pregnant or breastfeeding. Consult a healthcare practitioner prior to use if you are taking any other medications. Flatulence, nausea, vomiting, diarrhea, constipation, dry mouth, mild insomnia, anorexia, sweating, dizziness and nervousness may occur.

Highlights

Shipping & Returns