NOW Foods Ulcetrol With PepZin GI & Mastic Gum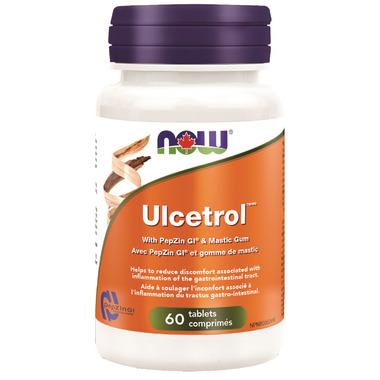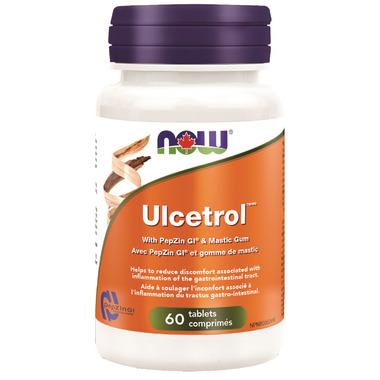 NOW Foods Ulcetrol With PepZin GI & Mastic Gum
NOW® Ulcetrol™ is designed to protect and support a healthy stomach lining. Ulcetrol™ contains PepZin GI®, which has been shown to provide a defense against damaging assault on the stomach's mucosal cells. PepZin GI® also has the ability to "seek out" and encourage the repair of injured, thinning tissue. NOW® Ulcetrol™ has the additional benefit of Mastic Gum, a natural resin from
Pistacia lentiscus
, a small evergreen tree native to Greece. Mastic Gum similarly supports stomach health, having demonstrated its effectiveness at providing relief of digestive discomfort.

Directions:
As a dietary supplement, take 1 tablet twice daily, with or without meals. Taking this product for eight weeks is recommended to achieve desired effectiveness. After eight weeks, take as needed.
Each Tablet Contains:
Calcium (from calcium carbonate)..70mg
PepZin GI® (Zinc L-Carnosine)...37.5mg
Providing: Zinc...8mg
L-Carnosine...28.5mg
Mastic Gum (Pistacia lentiscus)...100mg
Slippery Elm (Ulmus rubra) (Bark)...100mg
Non-Medical Ingredients:
Cellulose, Croscarmellose sodium, Stearic acid, Silica, Magnesium Stearate (vegetable source), Vegetarian Grade Coating (water, hypromellose, titanium dioxide, cellulose, stearic acid).
Consult a health care practitioner prior to use if you are pregnant or breastfeeding, or if you are allergic to the plant or pollen of the Mastic tree (Pistacia lentiscus). Consult a health care practitioner if symptoms persist or worsen. Zinc supplementation can cause copper deficiency.