NOW Solutions Citrus Moisture Shampoo
Daily Moisture for Dry, Limp Hair
473 mL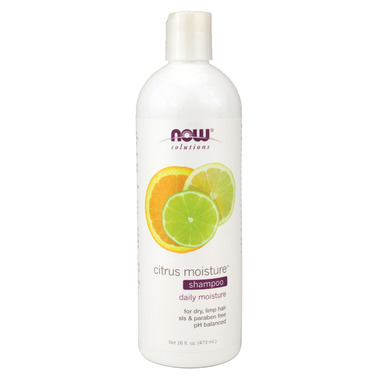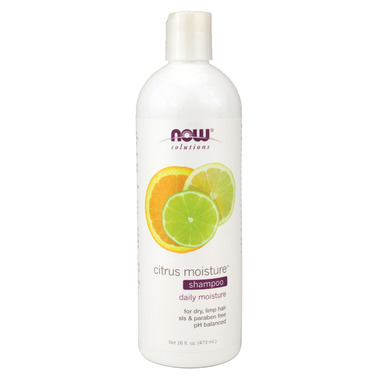 NOW Solutions Citrus Moisture Shampoo
Daily Moisture for Dry, Limp Hair
473 mL
NOW Natural Citrus Moisture Shampoo saturates your hair with moisturizing compounds to keep it soft, healthy, and beautiful. NOW formulates this moisturizing shampoo with Vitamins B, C, and E, in addition to Jojoba Oil and Green Tea Extract for hair that looks and feels better than ever!
Extra foam doesn't necessarily mean extra clean. Commercial shampoos contain sodium lauryl sulfate (SLS), a chemical agent that causes heavy foam and suds. It can also be damaging to healthy hair. But you won't find SLS in NOW Natural Shampoos.
Features:
Moisturizing
pH Balanced
Paraben-free
SLS-free

Ingredients: De-ionized Water, Babassuamidopropyl Betaine, Decyl Glucoside, Sodium Olefin Sulfonate, Lauryl Glucoside, Aloe Barbadensis (Aloe Vera) Leaf Gel*, Vegetable Glycerine, Cetearyl Alcohol, Sodium Hydroxymethyl Glycinate, Herbal Extract Blend (extracts of Licorice, Calendula, Nettle, Horsetail (scouring rush), Chamomile, Lavender and Sage), Citric Acid, Keratin and Hydrolyzed Keratin, Natural Orange-Grapefruit Citrus Essence, d-Panthenol, Hydrolyzed Wheat Protein, Hydroxylated Soy Lecithin, Hydroxyethyl Cellulose, Vitamin E (as mixed tocopherol), Virgin Coconut Oil*, Jojoba Oil, Green Tea Extract, Vitamin D2 (as ergocalciferol), Biotin, Niacin (as niacinamide), Vitamin A (as retinyl palmitate) and Vitamin C (as sodium-ascorbyl phosphate). *Certified Organic Ingredients.