NOW Solutions Herbal Revival Shampoo
Repairs & Strengthens Damaged Hair
473 mL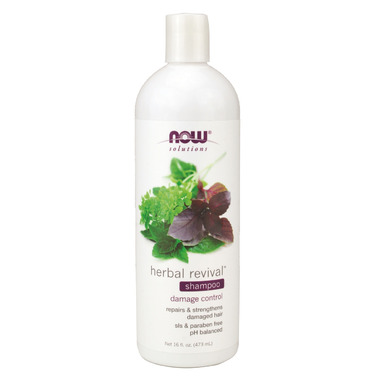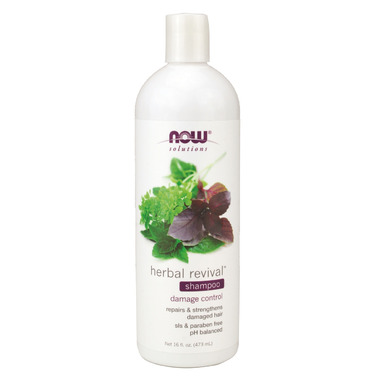 NOW Solutions Herbal Revival Shampoo
Repairs & Strengthens Damaged Hair
473 mL
NOW Natural Herbal Revival Shampoo was specially formulated with a unique arrangement of natural compounds that bring even the most damaged hair back to life. Horsetail Extract, Tea Tree Oil, and Sea Kelp have been included to soothe and nourish the scalp, while restoring natural shine and repairing the natural texture of healthy hair. Amino acids such as L-Arginine and L-Cystine have been included to help strengthen weak, damaged hair follicles. Used daily NOW Natural Herbal Revival Shampoo is a great way to unleash your hair's natural beauty and texture.

NOW Natural Herbal Revival Shampoo and Conditioner are formulated with vital nutrients, botanical extracts, and other natural ingredients that improve and enhance texture, restore luster, and strengthen healthy roots and hair follicles.

Extra foam doesn't necessarily mean extra clean. Commercial shampoos contain sodium lauryl sulfate (SLS), a chemical agent that causes heavy foam and suds. It can also be damaging to healthy hair. But you won't find SLS in NOW Natural Shampoos.
Features:
For Damaged Hair
pH Balanced
Paraben-free
SLS-free
Ingredients: De-ionized Water, Babassuamidopropyl Betaine, Decyl Glucoside, Sodium Olefin Sulfonate, Lauryl Glucoside, Aloe Barbadensis (Aloe Vera) Leaf Gel*, Vegetable Glycerin, Cetearyl Alcohol, Sodium Hydroxymethyl Glycinate, Citric Acid, Herbal Extract Blend (extracts of Licorice, Calendula, Nettle, Horsetail (scouring rush), Chamomile, Lavender and Sage), Keratin and Hydrolyzed Keratin, Natural Rosewood-Green Tea Essence, d-Panthenol, Horsetail Extract, Sea Kelp Extract, Geranium Extract, Hydrolyzed Wheat Protein, Hydroxylated Soy Lecithin, L-Arginine, L-Cystine, Hydroxyethyl Cellulose, Jojoba Oil, Vitamin E (as mixed tocopherol), tea Tree Oil, Green Tea Extract, Vitamin D2 (as ergocalciferol), Biotin, Niacin (as niacinamide), Vitamin A (as retinyl palmitate) and Vitamin C (as sodium ascorbyl phosphate). *Certified Organic ingredients.