NOW Sports Beta-Alanine 100% Pure Powder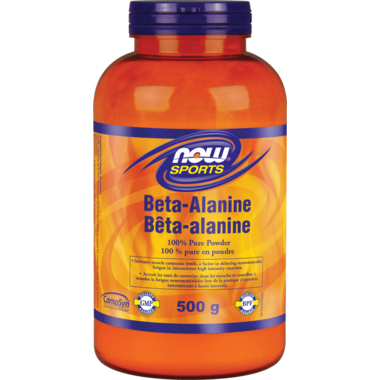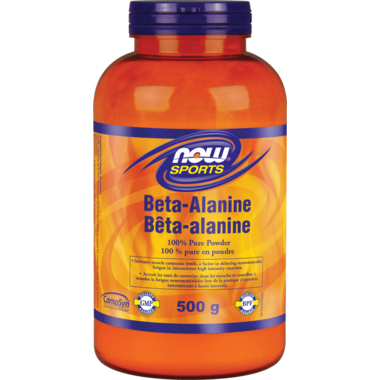 NOW Sports Beta-Alanine 100% Pure Powder
- We're sorry, this product is no longer available!
- Shop for other products in: Amino Acids

NOW Sports Beta-Alanine 100% Pure Powder is a non-essential amino acid that is used by muscle cells to synthesize Carnosine. Carnosine is a dipeptide (Beta-Alanine plus Histidine) that functions as a buffer for the hydrogen ions (acid) produced during strenuous exercise, thus helping to maintain optimum muscular pH. NOW uses CarnoSyn, a patented form of Beta-Alanine that has been clinically tested and shown to increase muscle Carnosine content, allowing muscles to work harder and longer during intense exercise. NOW Beta-Alanine is backed by scientific research demonstrating that CarnoSyn supplementation results in delayed muscle fatigue and rapid recovery time, thereby helping you attain your strength and endurance training goals.
Features:

Increases muscle carnosine levels, a factor in delaying neuromuscular fatigue in intermittent high intensity exercises
Beta-Alanine is a non-essential amino acid that is used by muscle cells to synthesize carnosine
100% Pure Powder featuring clinically-tested CarnoSyn® form
High Potency
Vegetarian / Vegan
Directions:
Adult Dosage: Take ½ teaspoon 2 times daily mixed in a glass of water or juice. Consult a health care practitioner for use beyond 10 weeks. Slowly increase dose to maximum levels over a period of 1-2 weeks. Allow at least 2 hours between doses.
Ingredients:
Each ½ level teaspoon contains:
Beta-Alanine (CarnoSyn®) 2.0 g
Non-Medicinal Ingredients:
None.
Caution:
Consult a health care practitioner prior to use if you are pregnant or breastfeeding, if you have liver or kidney disease or if you have been instructed to follow a low protein diet. May cause a flushing, tingling and/or prickling sensation of the skin, in which case reduce the dose.