NutiLight Dark Chocolate Hazelnut Spread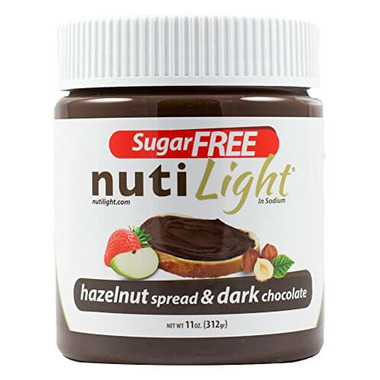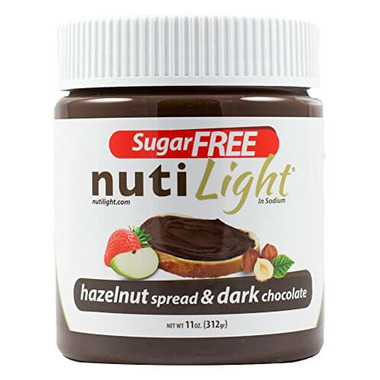 NutiLight Dark Chocolate Hazelnut Spread
This is a sugar free dark chocolate hazelnut spread that is sweet and creamy. Similar to popular brands of chocolate spreads, but with fibre, instead of sugar! Did we mention that these taste great and contain 0g of sugar?!
Features:
Nutritious guilt free Hazelnut and Chocolate indulgence
Sugar Free
No Maltitol, Sorbitol or any hydrogenated oil
All Natural 100% non-gmo verified
An excellent source of fiber
Gluten Free and Cholesterol Free
Kosher Certified
Ingredients
: (Chicory) Root Fiber*, Coconut Oil, Hazelnut, Xylitol*, Cocoa Powder, Sunflower Oil, Sunflower Lecithin, Pure Vanilla Extract, Stevia Leaf Extrac
Allergy Information:
Manufactured in the same equipment that processes dairy, peanut and other tree nuts.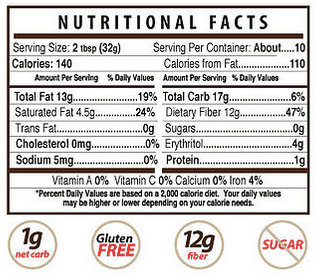 Maria:
a few months ago
I like this product very much since it contains no sugar. It has Xylitol which is my favourite sugar substitute because it does not have an aftertaste like most others and doesn't cause stomach upset or bloating like maltitol and sorbitol does for me. A very interesting thing that I discovered - I poured a bit (it pours more fluidly than a regular, thicker hazelnut spread) over some ice cream and it instantly hardened which added a lovely bit of crunchiness to the ice cream in my bowl. I will have to try it over some frozen fruit and see if it hardens as well. This would be great over some very cold strawberries! I need to buy another jar now that it is on sale.
Page
1