NutraCentials Melon SOD Nx with EXTRAMEL

NutraCentials Daily Essentials Melon SOD NX has Extramel, known as 'THE ORIGINAL MELON SOD (SUPEROXIDE DISUMUTASE)'. Extramel is a key ingredient of NutraCentials Daily Essentials Melon SOD NX and it's derived from a rare species of melon grown in the southern region France. This proprietary melon extract provides an antioxidant mixture that is clinically proven to increase SOD production in every cell of the body. SOD is the body's first line of defense against the most damaging free radicals that cause disease, disorder and aging. NutraCentials Daily Essentials Melon SOD NX offers the most powerful free-radical protection available!
In a published 28 day double-blind, placebo-controlled clinical trial, 70 health human subjects taking 10 mg of EXTRAMEL® per day had a significant reduction in perceived stress, and reduced both physical and mental fatigue as compared to placebo.
Why NutraCentials Daily Essentials Melon SOD NX with Extramel, should be an essential addition to your daily life:
Decreases your daily perception of stress so you feel more relaxed
Reduces mental and physical fatigue so you feel more energized
Neutralizes the Superoxide free radical which causes the most damage to the human body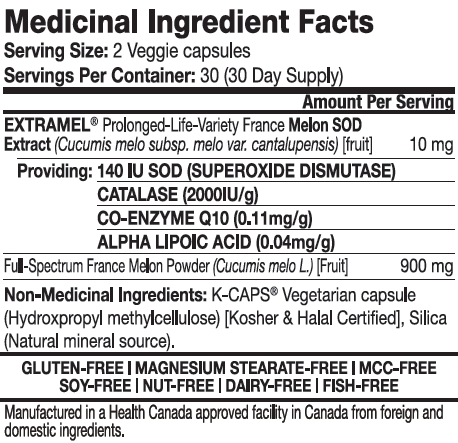 Recommended Use & Purpose:
Provides antioxidants for the maintenance of good health. Supports positive effects on perceived stress such as pain, sleep troubles, weariness and irritability.
Recommended Dosage & Directions:
Take 2 capsules daily with breakfast.
Warning/Risk Information:
Consult a healthcare practitioner prior to use if you are pregnant or breastfeeding. Keep out of reach of children. Store at room temperature.