Nutribar Original Oatmeal Raisin Bars
Meal Replacement
6 Bars (390 g)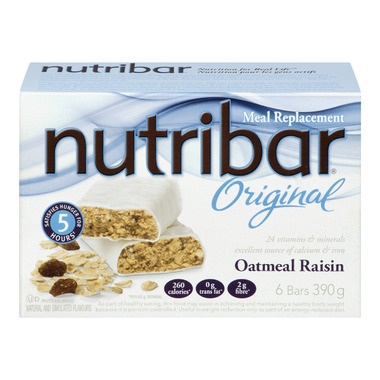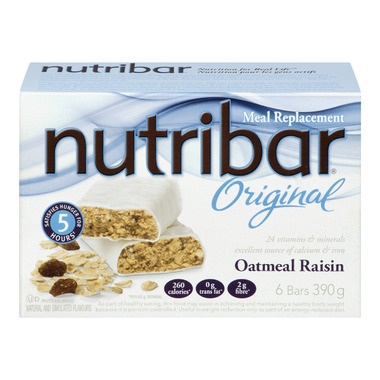 Nutribar Original Oatmeal Raisin Bars
Meal Replacement
6 Bars (390 g)
Sweetly scented with cinnamon and chewy with real rolled oats, this yummy bar tastes like delicately iced cinnamon raisin oatmeal cookies!
You do your best to eat healthy most of the time, but with your hectic lifestyle, you don't always have time to prepare a healthy meal. That's why there's Nutribar Original. It has all the nutrients you need in a meal, and it's available in a convenient bar or luscious shake. Nutribar has taken all the guesswork out of what you eat by counting the calories and grams of protein, fat and carbohydrates for you. Nutribar helps take care of your nutrition so that you have time to take care of everything else. So you can still make that 12:30 meeting or pick up the kids on time without having to worry about eating nutritiously.
Ingredients:
Protein blend (soy protein isolate, modified milk ingredients), glucose-fructose, yogurt flavoured coating (sugar, palm kernel oil, yogurt powder [cultured whey protein concentrate, cultured skim milk, yogurt culture], skim milk powder, soy lecithin, natural flavour), crisp rice, (rice, sugar, salt, malt), raisin paste, rolled oats, sorbitol, soybean oil, soy lecithin, sugar, honey, fructo-oligosaccharides, brown flax seed meal, oat fibre, maltodextrin, salt, natural and artificial flavours, guar gum.
MAY CONTAIN TRACES OF PEANUTS AND / OR OTHER NUTS.
Vitamins & Minerals:
Dicalcium phosphate, potassium chloride, magnesium oxide, ascorbic acid, niacinamide, ferric orthophosphate, dl-alpha tocopheryl acetate, zinc oxide, vitamin A palmitate, copper gluconate, calcium d-pantothenate, manganese sulphate, pyridoxine hydrochloride, biotin, thiamin mononitrate, cyanocobalamin, riboflavin, ergocalciferol, folic acid, potassium iodide, chromium chloride, sodium selenite, sodium molybdate.