NYDA
NYDA Head Lice Treatment Kit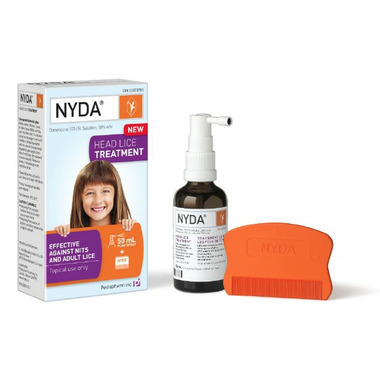 NYDA
NYDA Head Lice Treatment Kit
Description
NYDA
®
is a revolutionary head lice treatment as it brings many product attributes to concerned parents and children.
NYDA® does not contain any neurotoxic chemicals. NYDA® has a UNIQUE dual action dimeticone 100 cSt allowing it to penetrate deeply into the tiniest parts of the lice, larvae and also the egg's breathing system, replacing the air. This prevents the exchange of gases, provoking death of head lice and its eggs in a physical fashion within 58 seconds.
NYDA® is supplied with a 50 ml German-designed pump spray bottle and a special lice comb. The lice comb is especially designed with a 0.2 mm gap between its teeth, so that it may catch the lice, eggs and dead nits.
Dosage & Application: Depending on the length and fullness of the hair, spray the necessary amount of NYDA® to the roots of the hair and distribute it steadily massaging on the persons head, so that the hair is completely covered.

Easy Spray Application: NYDA® is simple to use as it's pump spray allows the formula to be distributed easily - even in long and thick hair. Its unique dual action Dimeticone 100 cSt 50% w/w formulation also allows easy combing as it is similar to an ingredient used in hair conditioners.
Each pack is supplied with step-by-step instructions, showing how NYDA® is used.
NYDA® head lice treatment is well tolerated and is also suitable for children as young as 2 years of age.
Application Cautions: Because some of the ingredients are inflammable NYDA® must not be used near open fire or incandescent objects. Keep NYDA® away from heat and ignition sources and do not smoke during the treatment.

Ingredients:

Medicinal Ingredient: Dimeticone 100 cSt Solution 50% w/w
Non-Medicinal Ingredient: Alpha-terpineol, Corymbia citriodora (boabo oil), jojoba wax, low viscosity dimeticone and triglycerides
IMPORTANT: DOES NOT contain any neurotoxic mode of action ingredients
Shipping & Returns
Unfortunately, due to the nature of this item, we cannot accept any returns.
We are only able to ship this item to Canadian customers.
Click here for more information