Oh My Yummies Superfood Crackers Kale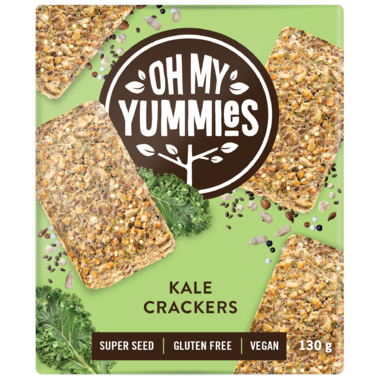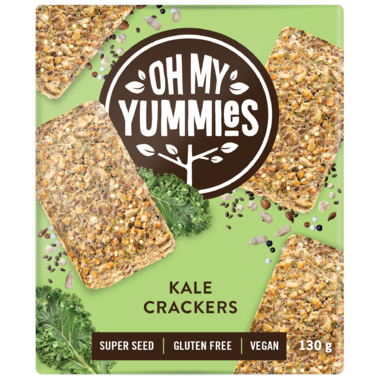 Oh My Yummies Superfood Crackers Kale
The Kale Crackers are made out of a superfood mix (Quinoa, Flax, Kasha, Sunflower, Chia) with Kale added to the mix. The end result is flavour that has won over even those who claim that Kale is not to their liking! It tends to also be a favourite with children as it has a neutral taste.
Oh My Yummies recommend you eat it with a healthy dip such as guacamole, hummous, tzatziki,cheese of your choice, eggs, fruits or anything your heart desires. It is a healthy, most delicious bread replacement!
Features:

Free from Dairy, Wheat, Gluten, Sugar, Yeast, Soy, Fillers, Nuts, Sesame
High in Fiber & Omega 3
Great for adults and children
No preservatives nor additives
Suitable for Vegans & Celiacs
Ingredients:
*BUCKWHEAT KASHA, *SUNFLOWER SEEDS,
*FLAX SEEDS, *ORGANIC QUINOA SEEDS, *OATS,
*BUCKWHEAT FLOUR, *FLAX POWDER, *QUINOA FLOUR, KALE FLAKES,
*CHIA SEEDS, SEA SALT, WATER. *ORGANIC.

MANUFACTURED AND PACKAGED IN A GLUTEN FREE, PEANUT FREE NUT FREE, AND KOSHER FACILITY. PRODUCTS DO NOT CONTAIN ANY NUTS BUT SOME INGREDIENTS MAY HAVE BEEN PACKAGED IN A FACILITY THAT PROCESSES NUTS.