Oh My Yummies Superfood Crackers Rosemary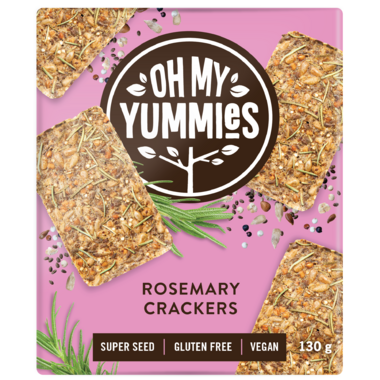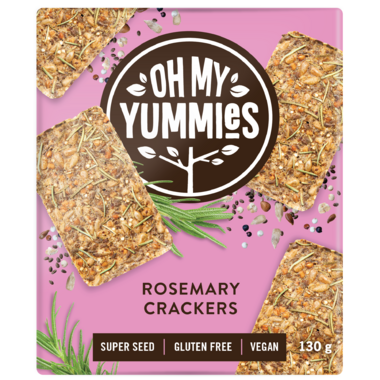 Oh My Yummies Superfood Crackers Rosemary
The Rosemary crackers are made out of a superfood mix (Quinoa, Flax, Kasha, Sunflower, Chia) with rosemary sprinkled on top. It adds a flavour that is delicious to anyone who loves this healthy herb and goes best with a cheese.
Oh My Yummies recommend you eat it with a healthy dip such as guacamole, hummous, tzatziki,cheese of your choice, eggs, fruits or anything your heart desires. It is a healthy, most delicious bread replacement!

Features:
Free from Dairy, Wheat, Gluten, Sugar, Yeast, Soy, Fillers, Nuts, Sesame
High in Fiber & Omega 3
Great for adults and children
No preservatives nor additives
Suitable for Vegans & Celiacs
Ingredients:
*BUCKWHEAT KASHA, *SUNFLOWER SEEDS,
*FLAX SEEDS, *ORGANIC QUINOA SEEDS, *OATS,
*BUCKWHEAT FLOUR, *FLAX POWDER, *QUINOA FLOUR, ROSEMARY,
*CHIA SEEDS, SEA SALT, WATER. *ORGANIC.

MANUFACTURED AND PACKAGED IN A GLUTEN FREE, PEANUT FREE NUT FREE, AND KOSHER FACILITY. PRODUCTS DO NOT CONTAIN ANY NUTS BUT SOME INGREDIENTS MAY HAVE BEEN PACKAGED IN A FACILITY THAT PROCESSES NUTS.