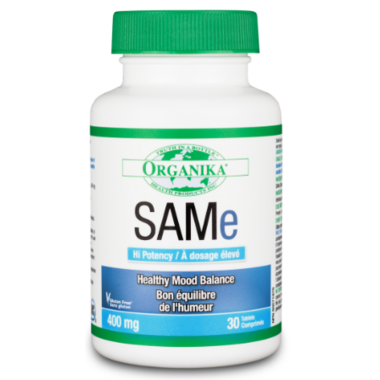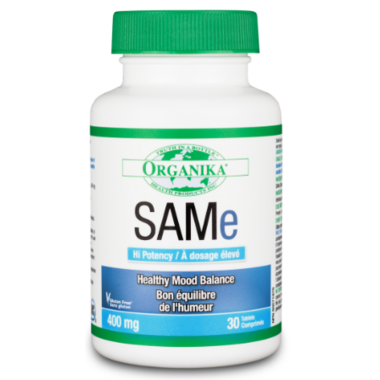 Organika SAMe promotes healthy mood balance. It is composed of the essential amino acid adenosyl and methionine-49 which cannot be found in food sources.
Features:
Helps relieve the symptoms and pain of osteoarthritis
Helps support healthy liver function
Helps support a healthy mood balance
Directions:
Take 1 tablet three times per day. Avoid taking at bedtime.
Medicinal Ingredients:
Each Tablet Contains:
SAMe (S-Adenosyl-L-Methionine DisulfateTosylate)....400 mg
Non-Medicinal Ingredients:
Microcrystalline Cellulose, Silica, Stearic Acid, Pregelatinized Starch.
Caution:
Consult a health care practitioner if you are taking anti-depressants, hepatotoxic drugs or any other prescription medication; or if symptoms persist or worsen. Consult a health care practitioner prior to use if you have cardiovascular disease. Do not use if you are pregnant or breastfeeding; or if you have been diagnosed with bipolar disorder. Some people may experience anxiety, restlessness, insomnia, and/or a temporary increase in heart rate (tachycardia), in which case discontinue use. Flatulence, nausea, vomiting, diarrhea, constipation, dry mouth or headaches may occur.







AT:
about a year ago
This product is good value for the dose in each capsule. Unfortunately for me I found that I am sensitive to SAM-e and after a couple of weeks it triggered headaches. My ND explained that it's easy (for some) to overdo it (and cause inflammation by doing so), and recommended breaking the tablet and starting with 1/4-1/2 tab every other day.
Page
1