Otrivin
Otrivin Cold & Allergy Relief Nasal Spray with Moisturisers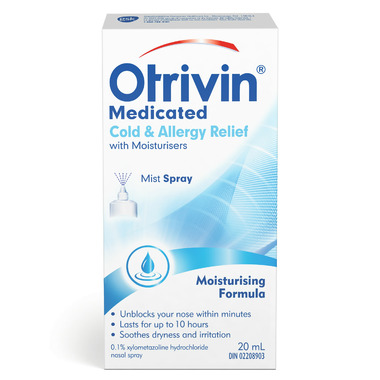 Otrivin
Otrivin Cold & Allergy Relief Nasal Spray with Moisturisers
Description
Otrivin with Moisturisers Decongestant Nasal Spray gives you fast, long-lasting relief of nasal congestion caused by colds, sinusitis and allergies with added moisturisers to help relieve nasal irritation.
Nonmedicinal Ingredients: benzalkonium chloride, di and monobasic sodium phosphate, disodium edetate, polyethylene glycol, propylene glycol, purified water.
Should you require consultation with a pharmacist, you may contact our Well.ca Pharmacist. Please read the label, warnings and inserts provided by the manufacturer and consult your healthcare professional when purchasing medications or natural health products to be sure the product is right for you.
Chemical Name: Xylometazoline Hcl Spray 0.10% Nasal
Shipping & Returns
Unfortunately, due to the nature of this item, we cannot accept any returns.
We are only able to ship this item to Canadian customers.
This item cannot be shipped to Quebec due to provincial pharmacy regulations.
Click here for more information