Pharmasystems Medi-Sweep Metal Lice Comb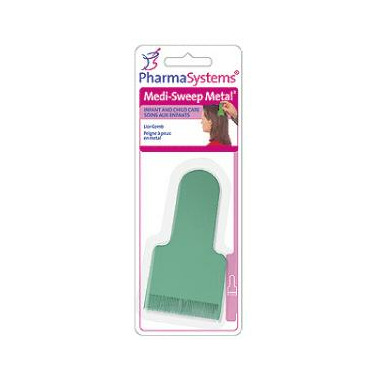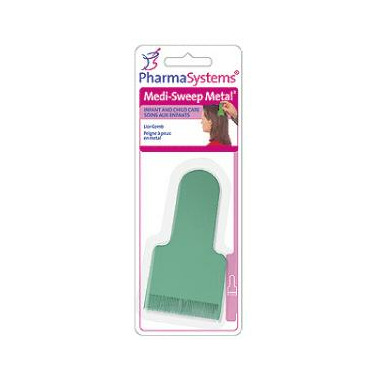 Pharmasystems Medi-Sweep Metal Lice Comb
| | |
| --- | --- |
| • | Anodized metal comb with patented tooth design. |
| • | Metal version of our popular Medisweep comb. |
| • | Laboratory tested. |
| • | Reusable |
| • | Removes head lice and their eggs. |

Tanya:
more than a year ago
Don't waste your money. I purchased this on the advise of the pharmacist and used it on my son. It basically didn't work at all. The fingers of the comb were so far apart that it was difficult to get in the hair. After I attempted to use this I used the comb that came with the shampoo and found TONS of eggs where I only found one using this product. Even better was the Lice Squad comb. It's pricy but seems to work much better.
jory:
more than a year ago
This is a poor quality lice/nit comb - does not work the same way as the lice squad Canada's louse trap comb, and is NOT comfortable. Not only that, but it literally cuts through and breaks off hair, no matter how small of a section you take. The teeth on this comb are so close and tight together that honestly, very little fits through it. Perhaps this is designed for super fine baby hair, in very miniscule amounts, but this one did not work for us at all. I suggest that you take a look at the Lice Squad comb sold here on well.ca - though it is around 5 times more expensive it is worth every penny. My pharmasystems medi-sweep metal lice comb ended up in the garbage, it was such a poor quality build, and rusted, too. 5 X more is a lot more money for the other brand, I agree, but is seriously worth every penny it works that well. Even if your child doesn't have lice now - buy it - and use it for weekly checks at a minimum, to prevent the spread of lice to other children.
Page
1