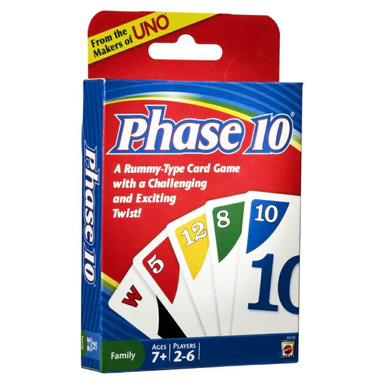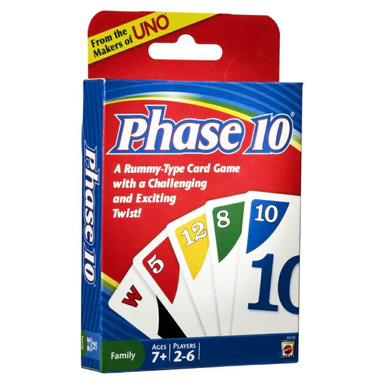 The wickedly fun rummy game you play in phases! During each hand, you work to complete a phase - getting 2 sets of 3 cards is Phase 1. Complete your phase before the end of the round to move on - but if you don't, you'll have to try again!
Complete the ten phases in order to win
If you fail to complete a phase, go back and try again
Bring it anywhere for fun on the go!
Comes with 108 cards plus instructions
Mary-Lou:
more than a year ago
Love, love, love Phase 10 card game! We've just purchased 2 more Phase 10 games, 1 for us to replace our old one and 1 for my parents to try (and know they will love it as well!). I would recommend this game to anyone, it's fun and a great thing to do with company or the family.
Mary-Lou:
more than a year ago
LOVE this card game!!! This is my second box of Phase 10, we bought one years ago but during our recent move it got misplaced. If you like playing cards, I guarantee you will like this game. Our family has sat down at a table many times to play Phase 10 and we ALWAYS have a lot of fun. I'm currently teaching my 70-something year old parents to play with their good friends.
Page
1