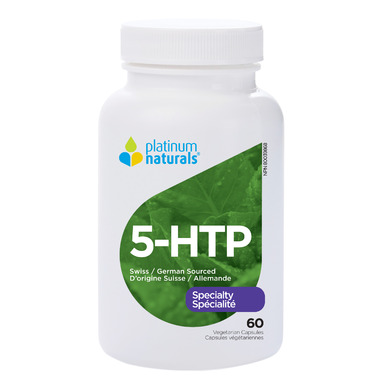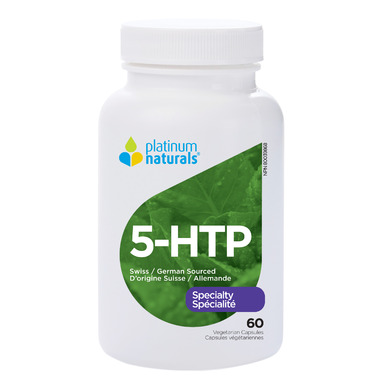 5-HTP is a precursor to serotonin, which has been known to improve mood balance and insomnia as well as act as an appetite suppressant.

What is 5-HTP?
5-Hydroxytryptophan (5-HTP) is an amino acid found naturally in the seeds of Griffonia simplicifolia, a medicinal plant native to West Africa. It cannot be obtained through food and has been used and researched clinically for three decades.
5-HTP is a direct precursor to the synthesis of serotonin, an important brain chemical that is involved in sleep, mood, anxiety, aggression, appetite, body temperate control and pain sensation.
Since 5-HTP increases the synthesis of serotonin, it is used for conditions where serotonin is believed to play an important role:
Weight Loss: As serotonin levels increase, hunger diminishes and one can feel satiated (feel full quicker).
Insomnia: 5-HTP has been found to be effective in promoting sleep because it promotes the release of the hormone melatonin–which regulates sleep.
Fibromyalgia: Studies suggest that 5-HTP can largely improve the painful picture of primary Fibromyalgia.
Headaches: Studies have demonstrated that taking a serotonin precursor such as 5-HTP is an effective way to treat tension-type and migraine headaches.
Depression and Anxiety: 5-HTP raises serotonin levels in the brain. Serotonin is the key to regulating moods: the higher the levels, the happier one can feel.
Features:
Gluten Free*
Lactose Free
Natural
Vegetarian/Vegan
Peanut Free
* Products are manufactured without gluten but not tested.
Recommended Adult Dosage:
Mood: Take 1 capsule, 3 times daily.
Fibromyalgia: Take 1 capsule, 3-4 times daily.
Migraine: Take 1 capsule, 2-3 times daily.
Sleep: Take 1 capsule daily, 30-45 minutes before bedtime.
Weight Management: Take 3 capsules, 3 times daily, 30 minutes prior to a meal.

Non-Medicinal Ingredients:
Organic alfalfa leaf powder.
Capsule Ingredients:
Hypromellose.
Caution:
Sleep Aid: Consult a health care practitioner if sleeplessness persists continuously for more than 3 weeks. All uses: Consult a health care practitioner if symptoms persist/worsen, you are pregnant or breastfeeding/are taking any medications. Discontinue use and consult a health care practitioner if you show signs of weakness, oral ulcers, or abdominal pain accompanied by severe muscle pain or if you experience skin changes. Do not use if you have scleroderma. Some people may experience diarrhea, nausea, vomiting, abdominal pain and/or drowsiness. Exercise caution in activities requiring mental alertness.