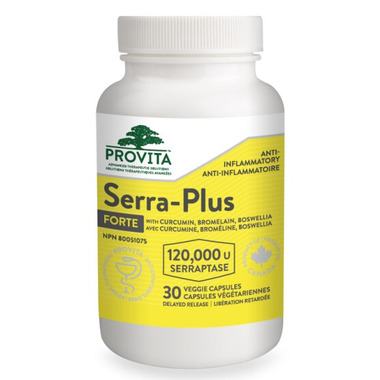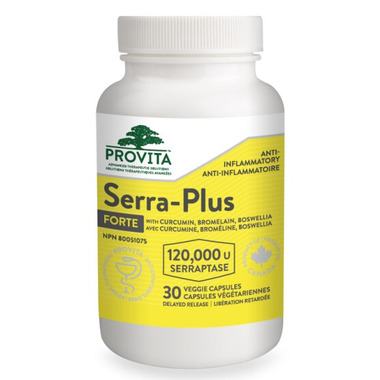 A powerful and fast acting anti-inflammatory. Serrapeptase with Curcumin, Bromelain and Boswellia.

For more than eight (8) years, this product has been in high demand in Europe both from consumers and from naturopathic clinics and doctors due to its excellent track record of efficacy in helping to treat inflammation and pain, and as an adjuvant for mitigating the inflammation caused by aggressive drug therapies such as conventional cancer treatments.

Provita Nutrition & Health Serra-Plus Forte is a highly effective and fast acting anti-inflammatory and pain relief natural health product with a very successful historic track record of effectiveness.

The formulation consists of the perfect synergy of natural ingredients that are proven to reduce pain and inflammation throughout the body.

Provita Nutrition & Health Serra-Plus Forte contains maximum potency Serrapeptase (120,000 SU), a higher dosage of Boswellia serrata extract containing 65% Boswellic acids, high quality Curcumin extract standardized to 95% Curcuminoids, Stem-Bromelain, Papain, Ginger, and Piper nigrum for improved bio-availability.

The ingredients are encapsulated in a delayed release (DR) vegetarian capsule that minimizes the impact of stomach acids and maximizes ingredient absorption.

Dosage: Adults take 1 capsule per day on an empty stomach at least 2 hours after a meal (such as in the morning or before bedtime).

Active Ingredients:
Each Capsule Contains:

Serrapeptase…………………………………………………………..120,000 SU
Curcumin 95TM (Curcuma longa-Rhizome)…………………..100 mg
Stem Bromelain…………………………………………….3,000,000 FCC PU
Papain……………………………………………………………300,000 FCC PU
Boswellin 65TM (Boswellia serrata extract)…………………….100 mg
Zingiber officinale root 10:1 PE………………………………………..50 mg
Piper nigrum…………………………………………………………………..15 mg

Notes:
FCC PU: Food Chemicals Codex Papain Units
SU: Serrapeptase Units

Non-Active Ingredients: Microcrystalline cellulose, Delayed Release vegetable (Hypromellose) capsule.

Caution: Do not use if you are pregnant or breastfeeding. If symptoms persist or worsen, discontinue use and consult a health care practitioner. Discontinue use if gastrointestinal effects occur. Consult a health care practitioner prior to use if you have gastrointestinal lesion/ulcer, excess stomach acid, are taking antiplatelet medication, anticoagulant/blood thinner or anti-inflammatory or antibiotic medication, or are having surgery, or if you have allergy to latex or fruits. Hypersensitivity/ allergy, nausea, vomiting and diarrhea has been known to occur; in which case, discontinue use. Sealed for your protection. Keep out of reach of children. Keep sealed, store in a cool, dry place at 15–25ºC.