Rexall Muscle and Back Pain Platinum Relief
Ibuprofen and Methocarbamol Tablets
18 Caplets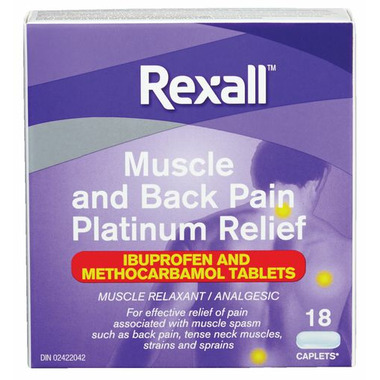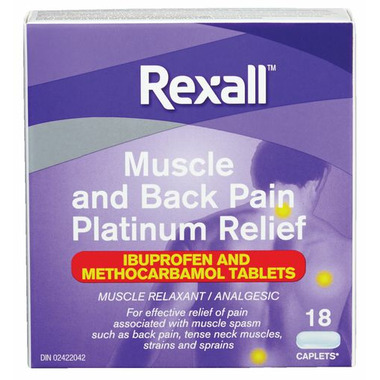 Rexall Muscle and Back Pain Platinum Relief
Ibuprofen and Methocarbamol Tablets
18 Caplets

The Rexall Muscle and Back Pain Platinum Relief offers effective relief of pain associated with muscle spasm such as back pain, tense neck muscles, strains and sprains.

Ingredients: Ibuprofen, Methocarbamol, FD&C blue no. 2, hypromellose, iron oxide red, isopropyl alcohol, magnesium stearate, methyl cellulose, methylene chloride, microcrystalline cellulose, povidone, polyethylene glycol, silicon dioxide
sodium lauryl sulfate, sodium starch glycolate, talc

Dosage: Adults: Take 1or 2 caplets every 4 to 6 hours as needed. Maximum daily dose: 6 caplets in 24 hours.