Sinutab Sinus & Allergy Extra Strength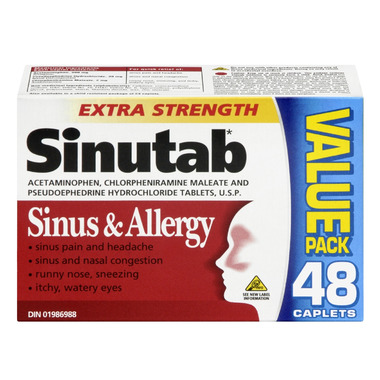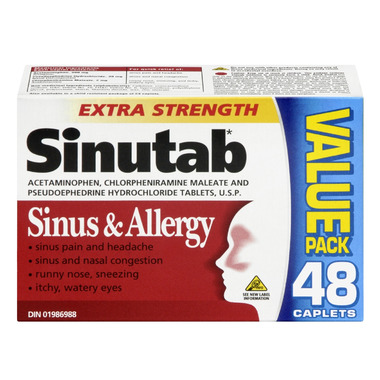 Sinutab Sinus & Allergy Extra Strength
Sinutab Sinus & Allergy Extra Strength temporarily relieves nasty symptoms related with sinus infections and allergic reactions.

Symptom Relief:

Sinus pain and headache
Sinus and nasal congestion
Runny nose, sneezing
Itchy, watery eyes

Dosage: Adult use only (12 years and older): 1-2 caplets every 4-6 hours. Do not exceed 8 caplets per day.

Medicinal Ingredients (per caplet):

Acetaminophen (analgesic) ... 500 mg
Pseudoephedrine hydrochloride (nasal decongestant) ... 30 mg
Chlorpheniramine Maleate (antihistamine) ... 2 mg

Non-medicinal Ingredients: cellulose, croscarmellose sodium, FD&C Yellow No. 10, FD&C Yellow No. 6, hypromellose, polyethylene glycol, polysorbate starch, titanium dioxide, wax, zinc stearate.

Caution: Read the complete label before use and follow all directions. Adult use only. DO NOT USE with other products containing any of these ingredients, salicylates or other cough/cold or pain/fever medications.
anon:
a few months ago
Sinutab extra strength helps my migraines - Well.ca has the best price for it, especially when on sale. I have severe allergies and migraines, and Sinutab extra helps me to manage these situations. It is NOT a cure for allergies or migraines, but it eases the symptoms. I wish we could buy more than 2 at a time, but I understand the limit as this is a drug
Patricia:
more than a year ago
I have chronic sinus problems, particularly in summer. The usual allergy products do not work. Sinutabs work. An excellent product that dries up the sniffles and worse. I have used it for along time and have never experienced problems and in fact, recommend it to friends.
Page
1