SNOO Smart Sleeper Bassinet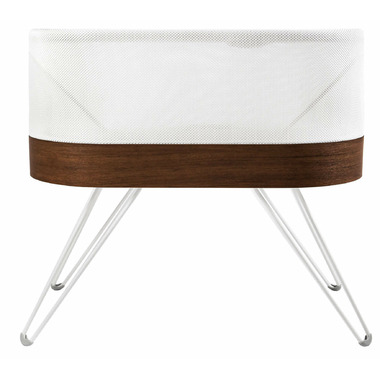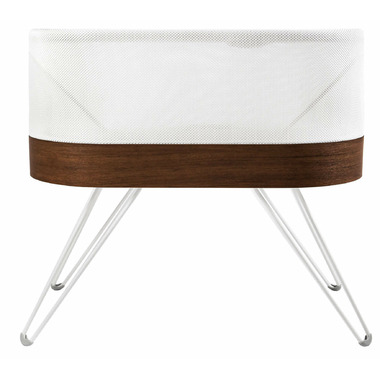 SNOO Smart Sleeper Bassinet
SNOO is the safest and most effective baby bed ever made! It helps boost a baby's sleep and often can calm a baby's fussing by quickly responding with special white noise and jiggly rocking. It can even reduce the need for sleep training.
SNOO's unique 5-second swaddle
is easy to use and keeps babies safely on the back (when used as directed). Altogether, SNOO gives new parents the precious gift of rest...and peace of mind.
The 5 S's

The 1st S: Swaddle
Swaddling recreates the snug packaging inside the womb and is the cornerstone of calming. It decreases startling and increases sleep. And, wrapped babies respond faster to the other 4 S's and stay soothed longer because their arms can't wriggle around.

The 2nd S: Side or Stomach Position
The back is the only safe position for sleeping, but it's the worst position for calming fussiness. This S can be activated by holding a baby on her side, on their stomach or over your shoulder. You'll see your baby mellow in no time.

The 3rd S: Shush
Contrary to myth, babies don't need total silence to sleep. In the womb, the sound of the blood flow is a shush louder than a vacuum cleaner! But, not all white noise is created equal. Hissy fans and ocean sounds often fail because they lack the womb's rumbly quality. The best way to imitate these magic sounds is white noise.

The 4th S: Swing
Life in the womb is very jiggly. (Imagine your baby bopping around inside your belly when you jaunt down the stairs!) While slow rocking is fine for keeping quiet babies calm, you need to use fast, tiny motions to soothe a crying infant mid-squawk.
The 5th S: Suck
Sucking is "the icing on the cake" of calming. Many fussy babies relax into a deep tranquility when they suck. Many babies calm easier with a pacifier.

How Do the 5 S's Relate to Another Favorite S – Sleep?
The keys to good sleep are swaddling and white noise. So Happiest Baby invented SNOO, an innovative baby bed based on the 5 S's that helps calm babies and ease them into sleep. Parents especially love when it quickly calms babies for those 2 a.m. wakings!


Sleep
Adds 1+ hours a night by automatically responding with increasing levels of white noise + motion to quickly soothe fussing
Newborns start sleeping better in 1-2 days…babies older than 6 weeks within 3-7 days
Safety
Only bed that keeps your baby safely on the back—all night long—as recommended by the American Academy of Pediatrics
Use until baby is 6 months old or until baby can get up on hands and knees. Max. baby weight: 25 lbs
SNOO Sack attaches to safety clips to prevent risky rolling
Mobile App
Easy to customize with gentle preemie/newborn setting and weaning option to transition baby to crib
Tracks your baby's progress in sleep log
Alerts parents if the baby needs more attention (due to hunger or discomfort)
Product Specs:
Bed size: 30" L × 16" W × 32" H with legs; Weight: 38 lb
Advanced audio processing to distinguish cries from ambient sounds
3 specially engineered white-noise sounds to calm crying and enhance sleep
Custom motor optimized for quiet and reliability
What's included in the box?

SNOO Bed
4 Legs
Power adapter
Power cable holder
3 SNOO sacks (S, M, L)
Mattress with fitted sheets