Southbrook Vineyards Bioflavia
Organic Red Wine Grape Skin Powder
150 g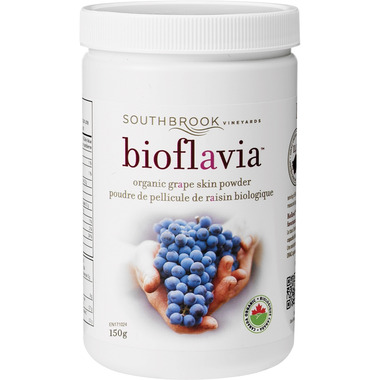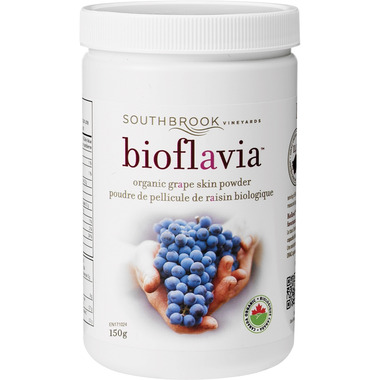 Southbrook Vineyards Bioflavia
Organic Red Wine Grape Skin Powder
150 g
Bioflavia™ organic red wine grape skin powder is an innovative product which boasts a host of health promoting benefits. A daily 10g serving of Bioflavia™ has 11,000 ORAC Units which provides a powerful boost of antioxidants. Unlike many other health products, Bioflavia has only 3 ingredients; organic grape skin powder, organic grape powder and Vitamin C. That's it! Nothing else.
The making of Bioflavia™ starts with organic red wine grape skins which are sourced solely from the Niagara, Ontario Wine Region. The grape skins are put through a comprehensive drying and separating process and then are milled into a fine powder. The resultant Bioflavia™ grape skin powder has a high concentration of antioxidants and features a fragrant wine based aroma and flavour.
Your body will thank you!
Ingredients:
organic grape skin powder, organic grape powder and Vitamin C.
Storage:
Store in a cool dry space, away from direct sunlight and heat.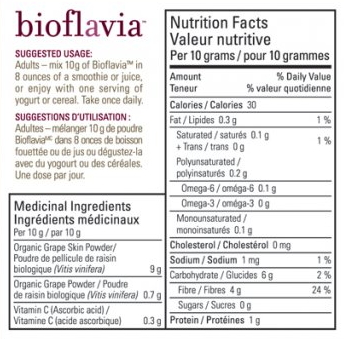 Marie:
more than a year ago
I bought this product after I saw it on the Dragon's Den. The idea of organic grape skin residual from the made wine, made into a powder appealed to me as an antioxidant as apposed drinking wine. I tried it in yogurt first and liked it. I tried in a smoothie next but the think I put to much in. The product is very concentrated...So, a little goes a long way. My advise it to use less that the direction indicate.
Page
1