The Honest Company Diapers Size 3
The Honest Company Diapers Size 3
is rated out of
5
by
3
.
The Honest Company Honest Diapers are made with naturally derived, plant-based and sustainable materials.
Exciting print and packaging refresh! Introducing more prints in a pack that has a new look and feel. Super-absorbent with soft, gentle materials made without chlorine processing and additives (like fragrances, lotions, and latex) – gentle on baby's bottom! Made with a plant-based inner and outer layer, Honest Diapers are premium diapers are available in adorable classic options.
Features:
Eco-friendly baby diapers

Plant-based (PLA) inner and outer layers, plus an absorbent core with fluff pulp harvested from certified sustainably managed forests

Naturally derived odor inhibitors formulated from citrus and chlorophyll
Bio-based, gluten free wheat/corn blend in super absorbent core
No fragrances, lotions, or latex
Comfy-stretch side panels and soft with refastenable tabs
Securely fitting moisture barrier cuffs help prevent leakage and blowouts
Gentle, safe, and non-irritating for sensitive skin
Sizing:

Up to 10 lbs - Size N
8-14 lbs - Size 1
12-18 lbs - Size 2
16-28 lbs - Size 3
22-37 lbs - Size 4
27-35 lbs - Size 5
35+ lbs - Size 6

Materials: Totally Chlorine-Free (TCF) Wood Pulp (From Sustainably Managed Forests, No Optical Brighteners), Absorbent Bio-Core (Wheat/Corn Polymer Blended With Sodium Polyacrylate), Plant-Based PLA (Inner & Outer Layer), Safe Adhesives (In Seams & Joints), Polymer Spandex & Polypropylene (In Leg/Waist System), Ink (Made Without Lead & Heavy Metals In Printed Backsheet), Citrus Extract & Liquid Chlorophyll (Natural Acting Odor Blockers In Bio-Core)
Don't forget to pick up The Honest Company Honest Baby Wipes and The Honest Company Soothing Bottom Wash!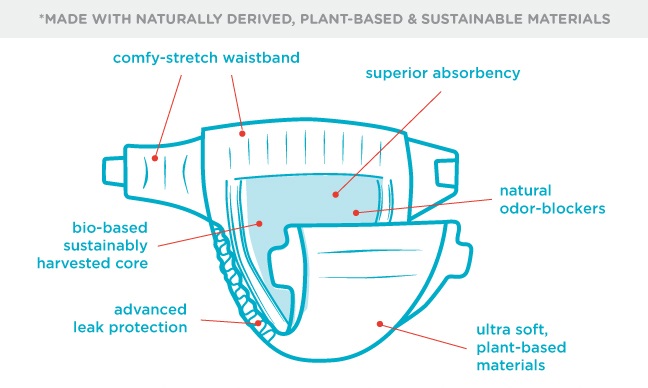 Other The Honest Company Products
Rated

5

out of

5
by
HNM
from
Best diapers
We use these and cloth diapers exclusively. Unfortunately, we live in a small town where honest diapers are not available, so sometimes when we are too late ordering online we have to resort to pampers or huggies... neither of which work as well or are as chemical-free as the honest diapers. They're the best!
Date published: 2021-04-01
Rated

5

out of

5
by
Adrienne
from
Slightly bulkier than some brands of diapers, but soft, not stiff, so that doesn't bother me or my daughter. These don't get that damp feeling on the outside that some other "green" brands get when they're wet on the inside. We use these for overnight too, and they very rarely leak. And how cute are they?!
Date published: 2020-02-13
Rated

4

out of

5
by
Rebeckp
from
Love these!
One of the only diaper brands we've tried where leaking seems to actually never be an issue, which is a big relief! We only wish there was some indicator for when our little one has peed! Super cute designs are always fun too!
Date published: 2021-04-20