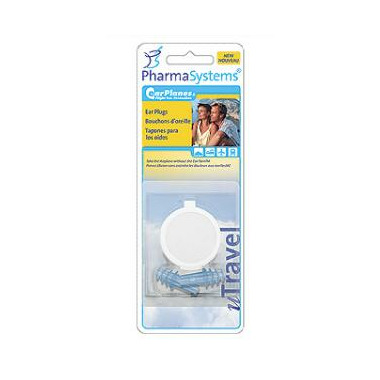 1 Count
Travel Ear Plugs for Adults
is rated out of
5
by
16
.
---
Description
Designed to use for landings and take offs while travelling.

• Take the Airplane Without the Ear Pain.
• Relieves discomfort, popping and clogging.
• Patented filter regulates pressure changes between the airplane cabin and inner ear.
• Exclusive CeramX Filter that regulates air pressure.
• Soft, flanged design for comfort.
• Nationally advertised.
• Includes a storage case.
• One pair.
Highlights

Shipping & Returns
Unfortunately, due to the nature of this item, we cannot accept any returns.
We are only able to ship this item to Canadian customers.
Click here for more information
Rated

5

out of

5
by
Dorothy
from
Prior to buying Ear Planes, travelling by plane was a nightmare for me. I would have excrutiating ear pain upon landing. The pain would be so severe it would bring me to tears. The worse part is that the pain would not subside for at least 3-4 days into my trip. Then, taking the return flight home would be even worse. As soon as my ear would sense any pressure change it felt like my ear drums were exploding. When I first tried Ear Planes, I was hoping for a little relief, but what I got instead was a plane ride that was totally pain free. Not even a little ear drum popping - nothing!! I was so thrilled. As soon as I got home I called everyone I know and recommended this product for their next trip.
Date published: 2011-07-18
Rated

3

out of

5
by
Jess
from
Uncomfortable
I need ear plugs to sleep, and have been looking for an alternative to disposable foam ear plugs. Most silicone ones leave my ear canal wet and itchy as they don't allow air to circulate. I wanted to try ones with a filter, hoping that would solve the problem. These did actually keep my ears dry, but the flanges were too stiff and were somewhat painful once inserted. Additionally, I knew these wouldn't be as effective at blocking noise as foam ones as that's not what they were designed for. Once I made sure there was a tight seal they did reduce noise somewhat, but not as much as I need. I haven't tried them on a plane, so they could work fine for that purpose for someone with wider ear canals than I do.
Date published: 2021-08-27
Rated

5

out of

5
by
Jory
from
We use this product, ear planes, on every flight - this product helped us with pain and pressure while in-flight. I will never fly without these - the adults in our family use the adult plugs, and the children use the children plugs. Children will need assistance to make sure they are properly inserted but they are not uncomfortable. I would suggest placing them in the ear prior to take off, and leave them in the entire time. Hearing is a little muffled, but not too bad, and it does quiet the sounds of the loud plane - however, in-ear plugs for music will not be able to be used when using the ear planes, but it's a small price to pay for piece of mind. Before I used these, my ears would hurt for hours after a flight, and pained me a lot in-flight. When I use these now, I don't have any discomfort or pain.
Date published: 2010-05-08
Rated

5

out of

5
by
Paul
from
Actually works as advertised. Mitigates the pain associated with problems balancing the air pressure in one's ear. The trick is to insert them before take-off and/or landing (but there's no need to wear them during the flight--your ears will become sore eventually).
Date published: 2012-06-12
Rated

2

out of

5
by
Andie
from
Okay for take off and landing, after that they become painful to use. They do not insulate from sound. I found that using wax earplug on airplane is a lot more comfortable.
Date published: 2012-10-22
Rated

4

out of

5
by
Cathy
from
I have had ear pain with nearly every flight ever taken. I often have tears running down my face. Long slow descents are the worst. I used them this month and had one excellent landing and another which was 1/3 fine, then really bad, then cleared up again. Definitely worth the money. Not perfect, but neither are my ears.
Date published: 2014-11-20
Rated

5

out of

5
by
Mark
from
What a great product! I have always suffered severe ear pain when flying. This product has made air travel so much more enjoyable. I do not suffer from any discomfort or pain or hearing loss anymore! I will never fly without them again. I have even recommended them to friends and family!
Date published: 2014-06-25
Rated

5

out of

5
by
Marnie
from
Had a sinus infection but needed to fly. On the way there I took a decongestant and decided to see how it was without the earplanes. On the descent my ears popped and my hearing was diminished for several hours afterwards. Used earplanes on the way back and had no problems whatsoever.
Date published: 2012-06-05