Trophic
Trophic Resveratrol + Ellagic Acid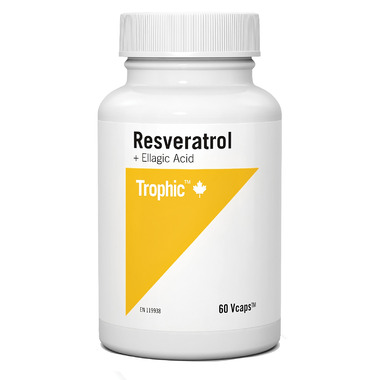 Trophic
Trophic Resveratrol + Ellagic Acid
Description
Resveratrol is a phytoestrogen and also a potent anti-inflammatory. Ellagic acid is found in pomegranates and has been found to have antioxidant properties. These properties of resveratrol help protect DNA and maintain healthy cell cycles. It helps promote cardiovascular health due to its antioxidant power that is crucial in protecting artery walls from oxidative damage Trophic's formula boasts a high concentration of ellagic acid, as well as quercitin and grape seed extract are added for even more complete antioxidant protection.
Recommended Use:
Antioxidants help to promote and maintain good health.
Directions:
Adults, take 1 Vcap twice daily with meals or as recommended by a healthcare practitioner.
Medicinal Ingredients (per capsule):
Pomegranate Standardized Extract ... 200 mg
Providing: 60% Ellagic Acid ... 120 mg
Trans–Resveratrol (Extract from the root of Chinese medicinal herb, polygonum cuspidatum also known as Japanese knotweed) ... 25 mg

Grapeseed Extract (Standardized proanthocyanidins 95%) ... 50 mg

Quercetin ... 50 mg

Non-Medicinal Ingredients:
Microcrystaline cellulose and magnesium stearate.
No added yeast, wheat, soy, gluten, dairy, sugar, corn, artificial colors, preservatives or animal products.
Highlights

Shipping & Returns