Vitalux Healthy Eyes Ocular Multivitamin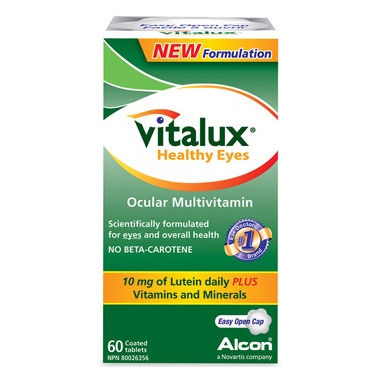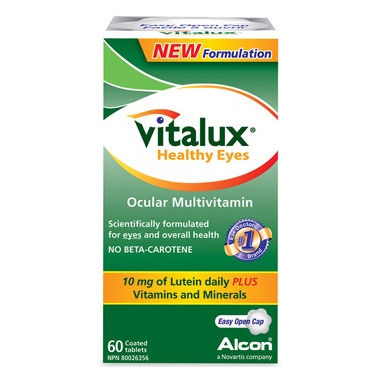 Vitalux Healthy Eyes Ocular Multivitamin
Vitalux Healthy Eyes is a convenient, all-in-one ocular multivitamin/mineral, for adults over 50, to reduce the risk of developing AMD and maintain overall good health.
Vitalux Healthy Eyes contains:
Beta-carotene, vitamins C and E, zinc, and copper
Lutein and zeaxanthin, with 10 mg of lutein per daily dose
22 additional vitamins and minerals
Directions:
Adults (50 years and over): Take 2 tablets daily with food. Take a few hours before or after taking other medication. Do not crush the caplets.
Non-Medicinal Ingredients:
Calcium silicate, carnauba wax, cellulose, certiseal coating, croscarmellose sodium, ethyl vanillin, hydroxypropyl cellulose, hypromellose, polyethylene glycol, polysorbate 80, sodium copper chlorophyll, titanium dioxide, vegetable magnesium stearate, vegetable stearic acid.
Precautions:
For adult use only. Smokers and recent ex-smokers should consult a health care professional before use. This product has come into contact with soy, fish and sulphites. Do not use this product if you are allergic to soy, fish or sulphites.