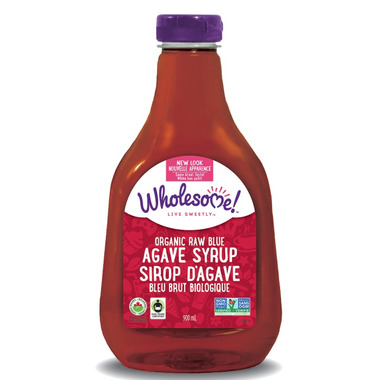 Description
Wholesome Sweeteners Fairtrade Organic Raw Blue Agave is a natural sweetener extracted from the core of the Blue Agave plant. Fairtrade Organic Raw Blue Agave is a smooth, delicious low glycemic syrup that is a ideal for sweetening coffee, oatmeal, pancakes, waffles, yogurt, cereal and more. It is also great in smoothies, iced tea, or cocktails as it dissolves quickly in cold beverages. Agave is easy to use in baking too. Try it wherever you would use a tabletop sugar.

Features:
The sweet, mild nectar is 25% sweeter than sugar so less is needed
Organic Raw Blue Agave is heated at low temperatures so is suitable for raw food enthusiasts.
Agave is non-crystallizing and dissolves quickly in hot or cold beverages. No refrigeration is required.
Ingredients: Organic Raw Blue Agave Syrup*
* Fair Trade Certified
Highlights

Shipping & Returns