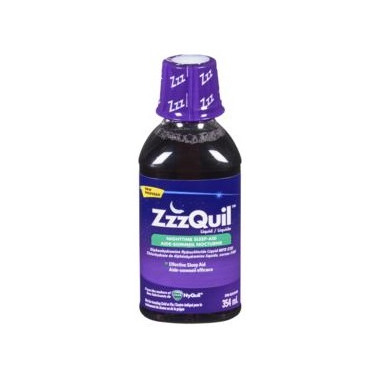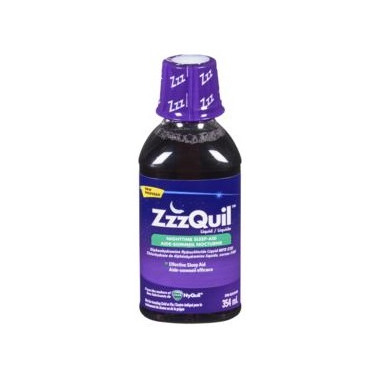 A Beautiful Night's Sleep Awaits
When you're having trouble getting that sound sleep your internal clock craves, add some Zzz's to your night with ZzzQuil. This non-habit-forming sleep-aid helps you get some shut-eye, so you can wake up feeling refreshed.
Uses
For the relief of occasional sleeplessness
Reduces time to fall asleep if you have difficulty falling asleep

Directions
Take only one dose per day (24 hours)—see Overdose warning
Use dose cup or tablespoon
Ingredients
Diphenhydramine HCl 50 mg
Inactive Ingredients
Alcohol, Citric Acid, FD&C Blue No. 1, FD&C Red No. 40, Flavor, High Fructose Corn Syrup, Polyoxyl 40 Stearate, Propylene Glycol, Purified Water, Saccharin Sodium, Sodium Benzoate, Sodium Citrate
Other Information
Each 30 mL dose (2 tablespoons) contains: sodium 23 mg
Warnings:
Do not use for children under 12 years of age, with any other product containing diphenhydramine, even one used on skin, with other drugs that cause drowsiness such as antihistamines and nighttime cold/flu products. Do not use with NyQuil.
Ask a doctor before use if you have
A breathing problem such as asthma, emphysema, or chronic bronchitis
Glaucoma
Difficulty in urination due to enlargement of the prostate gland
Heart disease
Ask a doctor or pharmacist before use if you are taking sedatives or tranquilizers or any other sleep-aid.