Baby Gourmet Apple, Sweet Potato, Berry Swirl Baby Food Case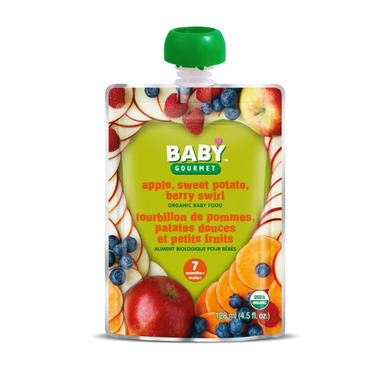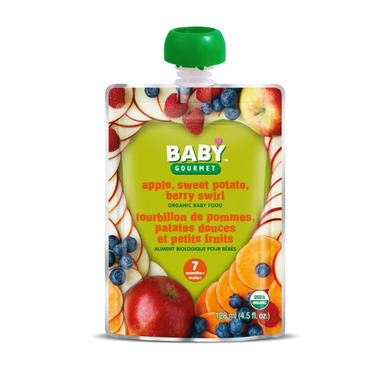 Baby Gourmet Apple, Sweet Potato, Berry Swirl Baby Food Case
Satisfy your baby's sweet tooth while increasing their veggies! This baby food combines sweet potato, apple and berries into one rich, flavourful, purée punch.
Features:
Organic
No Added Sugar
No Added Salt
Gluten Free
Nut Free
No Fillers
Kosher
BPA Free Packaging
Ingredients: Organic Apple, Organic Sweet Potato, Organic Blueberry, Water, Organic, Raspberry, Organic Lemon Juice Concentrate

Katie:
more than a year ago
Love this product. It is all organic so I have no concerns about harmful chemicals and our daughter loves it so it makes her happy and for an easy meal time. The lightweight, flexible packaging is a huge added bonus, I carry an extra one around in my diaper bag just in case I unexpectantly need food.
YOWza Mom:
more than a year ago
Recently tried these Baby Gourmet foods because of their cool packaging. We were travelling to the Caribbean for a one week holiday with my 7 month old baby and with only 20kg of luggage allowance, I needed some lightweight and unbreakable packages of baby food to take along. These worked terrific! Best of all, the flavours are fantastic. My daughter loves the taste and knowing they are all organic makes me love them too!
Page
1