Bakugan Dragonoid Maximus
Bakugan Dragonoid Maximus
is rated out of
5
by
32
.
The most powerful Bakugan in the universe has arrived: Dragonoid Maximus! Standing at 8 inches tall, this ultra-powerful Bakugan dragon figure roars to life with an epic transformation, lights, and sounds. Dragonoid Maximus comes packed with the exclusive Titan Dragonoid Bakugan ball (included)! Drop it on top of Dragonoid Maximus and watch as he explodes into his most powerful evolution – Dragonoid Maximus springs open with a fierce roar and the power core on his chest lights up!
You can also use any core Bakugan from your collection to activate Dragonoid Maximus, and trigger the lights and sounds by pushing the power core button at any time. With two BakuCores, an exclusive Dragonoid Maximus Evo Card and exclusive Titan Dragonoid Character Card included, power up and take your battles to the next level with the super powerful Titan Dragonoid to become the ultimate Bakugan Master! Awaken the power and explode into action with Bakugan Dragonoid Maximus!
Features
:
EPIC TRANSFORMATION: Drop the exclusive Titan Dragonoid (included) onto Maximus Dragonoid to activate his transformation. With a powerful roar and light-up power core, Dragonoid Maximus reaches his ultimate evolution!
8-INCH DELUXE FIGURE WITH LIGHTS AND SOUNDS: As Dragonoid Maximus springs open, he roars to life with a light-up power core and fierce battle sounds! You can also press the power core button any time to activate his lights and sounds.
EXCLUSIVE TITAN DRAGONOID AND GAME CARDS: Power up your Bakugan brawling with the included highly-powerful exclusive Titan Dragonoid and Character Card, 2 Baku Cores and exclusive Dragonoid Maximus Evo Card!
Bakugan Dragonoid Maximus is the ultimate gift for any Bakugan fan, aged 6 and up. Requires 2 AAA batteries (included). Experience the ultimate Dragonoid evolution with Dragonoid Maximus!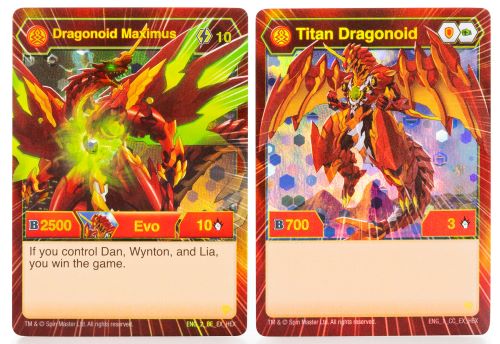 Rated

5

out of

5
by
JMadden
from
My son absolutely is in love with this toy. So interactive and and entertaining. The toy does say it's for 6+ , however I think you could get away with 4 years old. It's quite a large toy. Some small peices do come along with this. The toy is so much fun as it makes noises exactly like a dragon and moves very easily. The dragon also can go into different shapes and sizes depending on how your child may like to play with it. I think this toy bbn isn't much fun as it really can enhance and bring out the imagination out in your child. (This review was collected as part of a promotion.)
Date published: 2019-09-04
Rated

5

out of

5
by
melissa_r02
from
Team Up Bakugan!! I received the Bakugan Dragonoid Maximus from Family Rated. #Gotitfree. The little ones at home loved it and had fun transforming it. It was really easy to transform not like other toys where you have to force them into place. The kids loved the way it lit up. It also comes and Exclusive titan dragonoid. Two exclusive trading cards are part of the toy. I think its a great size and great for children 6 and older to play with. I would recommend this toy to anyone interested in Let's Battle! (This review was collected as part of a promotion.)
Date published: 2019-08-27
Rated

5

out of

5
by
Emilyw4
from
We received this awesome free toy to try from Family Rated! This Dragonoid Bakugan by Spin Master is so cool! Very sturdy and well made, with many features, lights, and sounds. My little guy hasn't put it down and continues to show us all the cool tricks it can do! It also comes with a mini ball Bakugan and 2 magnetic cards it can roll onto and then pop open! Lastly there are 2 Bakugan trading cards, one of which features the exact model which my son thought was so neat. I was extremely impressed by this toy and all the transforming it can do, as well as how well its built and so durable and sturdy. I know more of these are in our child's future! Christmas is right around the corner. (This review was collected as part of a promotion.)
Date published: 2019-08-23
Rated

5

out of

5
by
hwilson8
from
My boys, twins, LOVED the Dragonoid Maximus! It was fun to see how fast he transformed from a ball to an awesome looking dragon. They both played with it for quite sometime, and they repeatedly put it back together to then watch it transform! I was impressed with the quality of the toy, and honestly, how much fun it really was to see it transform with just a magnet! The transformation is so quick it's fun to do it over and over again. It was easy for my 7 year olds to put it back together, it didn't take any time, and they understood how to do it without any assistance. Overall it's a fun toy! They currently have it displayed on their dresser! I would definitely buy more characters from this series! (This review was collected as part of a promotion.)
Date published: 2019-08-21
Rated

5

out of

5
by
Gonzalez20us
from
My son and daughter can not put this toy down, I am amazed on how well this toy works. This toy is the best of both worlds it lights up with sound and it allows my kids to throw the ball ( titan dragonoid) at it. It's a cool toy because the Dragonoid Maximus is pretty big and it transforms and folds down and when you toss the ball (titan dragonoid) it opens up into the Dragonoid Maximus. My nephew likes it so much that his mom is buying one for him for Christmas. (This review was collected as part of a promotion.)
Date published: 2019-08-31
Rated

5

out of

5
by
Miclarson1596
from
My 3 sons haven't stopped playing with their Bakugan Dragonoid Maximus! They love all the features such as being able to transform and the sounds as well! My oldest son only wishes it would transform into more of a ball. I notice my children notice a new detail or feature each day! The quality of the toy is very well made! My destructive 3 year old hasn't harmed it at all! I highly suggest this toy to your children of all ages!! (This review was collected as part of a promotion.)
Date published: 2019-09-03
Rated

5

out of

5
by
stacy14
from
My son loved playing with this toy. The way it transforms from its folded stage into a roaring dragon was pretty amazing. Getting into the entire Bakugan realm is a lot of things to learn, cards to collect and a fun world to explore. This dragon is well made and tough looking , my son isn't the most gentle kid but this toy seems to be able to accommodate roughness. We're excited to start trading cards and battling with others. (This review was collected as part of a promotion.)
Date published: 2019-08-27
Rated

5

out of

5
by
Hannah8647
from
The Bakugan Dragoniod Maximus is so cool. The lights and sounds really add to the experience. It transforms easily and was easy for my son to make work on his own. It was a great surprise for him to "unbox" after his first day of school this year. He loves the cards and the little ball piece. He knows all about Bakugan but mom here... Not so much lol but this toy is way cool. It's a great quailty too. He's loving this thing! (This review was collected as part of a promotion.)
Date published: 2019-08-27