Bioflor 7 Probiotic 20 Billion Live Cells
Natural Fruit Flavour
7 x 8ml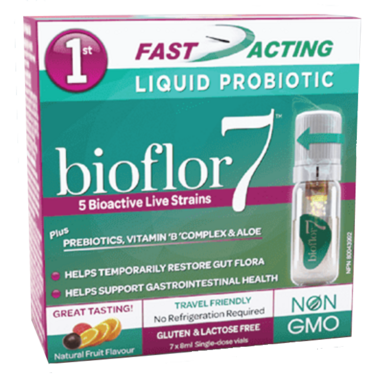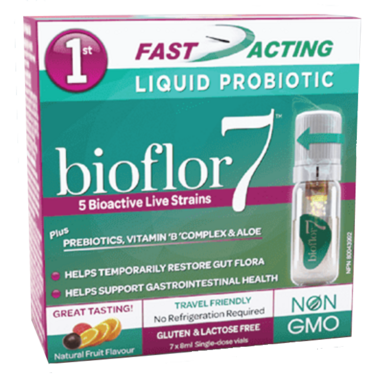 Bioflor 7 Probiotic 20 Billion Live Cells
Natural Fruit Flavour
7 x 8ml
Bioflor 7 Probiotic is made of fast acting biphase liquid that was scientifically formulated to help rebalance your intestinal ecosystem in only seven days.

The Bioflor7 BIPHASE delivery system provides the ability to scientifically subdivide the various ingredients in two chambers: the cap and the vial. The live probiotic strains are securely sealed within the cap and can only be released into the vial containing the liquid by turning the cap clockwise (to the right), to open the inner-seal. Once released, the probiotics become active and begin proliferating (multiplying) within the gastro-intestinal system within minutes from ingestion. This results in a more secure method of preserving the ingredients and obtaining a fresh mixture each time – thereby ensuring the effectiveness and survivability of the live probiotic strains.

Bioflor7 is travel friendly and doesn't require refrigeration as opposed to many encapsulated probiotics. It was designed for maximum flexibility and convenience, and can be placed in a handbag, briefcase or suitcase.

Suggested Use: One vial per day, after meals, for 7 consecutive days. May also be taken between meals if unable to take with or after meals.

Please be advised that Well.ca follows manufacturer guidelines for storing & shipping probiotics.

Corinne:
about a year ago
Bioflor7 is my go to probiotic aside from HMF. I took this on many trips with me and have felt great. One notable experience was in India.. I had perfect digestion the whole trip ASIDE from when I ran out of my 7 day vials :( .. My tummy was no longer agreeing with the food. So I know it works. Just make sure you have enough to last you a whole trip if going somewhere quite foreign!
Page
1