Outdoor Fresh
2 Months - 36.2 g Bar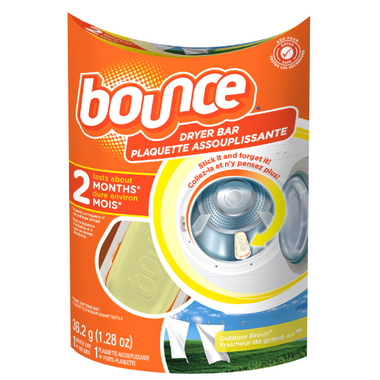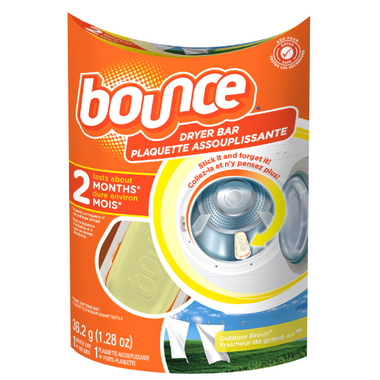 Bounce Dryer Bar
Outdoor Fresh
2 Months - 36.2 g Bar
Think - your bed. Think - super tired. Now think of the freshest, cleanest, bury your head in the pillow smell you can dream of while you're still awake. That's what were talking about.
Get months of freshness, softness, and static control, plus loads of convenience.
Installing a Bounce dryer bar is almost as easy as throwing in a load of laundry. In fact, you're done in just 5 steps:
Step 1: Wipe down the dryer drum and be sure it's clean and dry before you break out the bar.
Step 2: Pick a spot on the drum BETWEEN the dryer fins. NOTE: It's best NOT to stick the bar on the dryer back wall, door or fins.Got it? Good.
Step 3: Peel the paper backing from the adhesive on the back of the white dryer bar holder.
Step 4: Stick the bar to a spot between the dryer fins and press firmly for 15 seconds. Make sure to stick the bar exactly where you want it - changing locations can make the holder less sticky, so it could fall off, which could be kind of fun for the bar, but not as fun for your dryer.
Step 5: Wait 15 minutes before giving the bar a spin.After the bar is installed, make sure you disco dance to loud music for at least 10 minutes (optional).
How to Replace the Bounce dryer bar:
Step 1: You'll know you're ready for a new dryer bar when the word 'replace' begins to appear where the bar has faded away, or when the cosmos begin to align. Most bars (depending on size, frequency of use, and your dryer settings) will last 2 to 4 months.
Step 2: To remove the old bar, press the tabs at the end of the white holder and slide it out to one side.
Step 3: Slide your new bar out of its white holder. NOTE: You don't need to replace the white holder every time you replace the bar. But you might want to keep it for future use, or create a decorative modern art piece for display on your mantle.
Step 4: Slide the fresh bar into the white holder attached to your dryer. Ta-da! You did it. Now you're ready take on other challenges, like solving the debt crisis or negotiating world peace.