Buckley's
Buckley's Mucus & Phlegm Expectorant Cough Syrup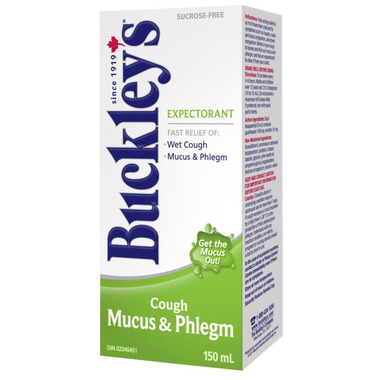 Buckley's
Buckley's Mucus & Phlegm Expectorant Cough Syrup
Description
Get the mucus out! Buckley's Cough Mucus & Phlegm is a Sucrose-Free Syrup that provides fast-acting relief for up to 6 hours from cold and flu symptoms such as coughs, nasal and sinus congestion and chest congestion. Works in your lungs to loosen and thin out mucus and phlegm, and has an expectorant to clear it from your chest

Active Ingredients: Each teaspoonful (5 mL) contains: guaifenesin 100 mg, menthol 10 mg.

Non-Active Ingredients: Acesulfame K, ammonium carbonate, butylparaben, camphor, Canada balsam, glycerin, pine needle oil, propylene glycol, propylparaben, tincture of capsicum, viscarin, water.

Caution: Consult a doctor if underlying condition requires continued use for more than 7 days, if cough worsens or is accompanied by a high fever (>38 °C) or the production of thick yellow/green phlegm. Individuals with any medical condition, are elderly, pregant or nursing should consult a doctor prior to use. In the case of accidental overdose, contact a doctor or Poison Control Centre immediately, even if there are no symptoms.

Highlights

Shipping & Returns
Unfortunately, due to the nature of this item, we cannot accept any returns.
We are only able to ship this item to Canadian customers.
Click here for more information