Bulletproof The Mentalist Whole Bean Upgraded Coffee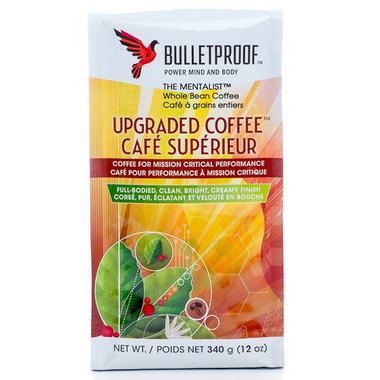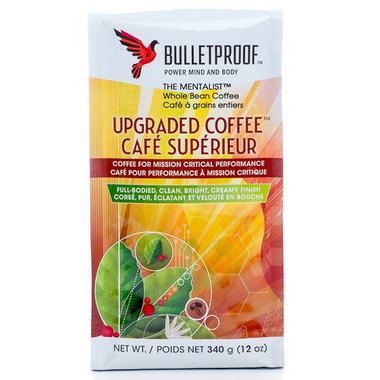 Bulletproof The Mentalist Whole Bean Upgraded Coffee
With Bulletproof The Mentalist Whole Bean Upgraded Coffee enjoy dark cocoa and vanilla aromatics open up to a rich, full-bodied coffee with cherry sweetness and notes of almond and caramel.


Features:
Third-party lab-tested for the 27 most common mold toxins
Supports energy, mental focus and performance
Medium roasted in small batches enhancing the naturally occurring antioxidant capacity and flavor
Now what's all this about putting butter in your coffee?

The Bulletproof Coffee Recipe works synergistically to kick-start your day, supporting energy and performance using quality fats for energy.
How to put butter in your coffee, the Bulletproof way. Make Bulletproof Coffee right and you'll feel the difference with your first cup.

Step 1: Brew - Choose your favorite brewing method and use 2 1⁄2 Tablespoons (37ml) freshly ground beans for every 8 ounces of water.

Step 2: Bulletproof - Add 1 Tbsp of grass-fed, unsalted butter. If you're new to Bulletproof Coffee, add 1 tsp (5 ml) Bulletproof Brain Octane oil to your coffee, gradually increasing each day up to 1 Tbsp. Blend for 20–30 seconds until it's creamy and frothy.

Drink. Energize. Perform!
Upgraded Coffee does not contain any dairy, egg, sugar, corn, yeast, wheat, soy, gluten, artificial flavors, or preservatives.