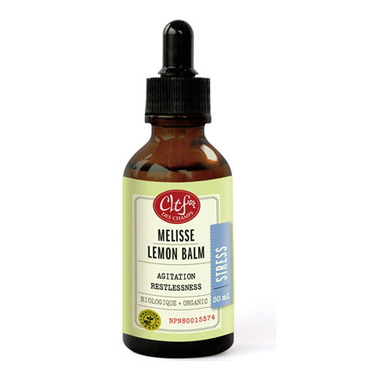 Description
Plant tinctures are concentrated extracts prepared in alcohol. Clef des Champs takes the greatest care in their manufacture, using only fresh plants from their own organic gardens, harvested at the height of their potency. They only use the most active parts of the plant and transform them immediately in our workshops and they only use certified organic grain alcohol, a traditional solvent for this type of preparation. Used in the right proportions, alcohol is the most potent solvent known, as well as being the most appropriate and flexible. Tinctures are easily prepared and transported, act rapidly and will keep for a number of years.
Purposes:
Lemon Balm is traditionally used in Western herbalism as a sedative for the relief of restlessness or nervousness and a calminative for digestive disorders.
Each ml of Lemon balm contains:
Lemon balm fresh organic leaves (Melissa officinalis)
Non-medicinal ingredient:
50 % organic alcohol
Directions:
Adults: 1 ml (20 drops), 3 times daily.
Consult a health care practitioner if symptoms persist. Do not take with alcohol or any sedatives.
Highlights

Shipping & Returns