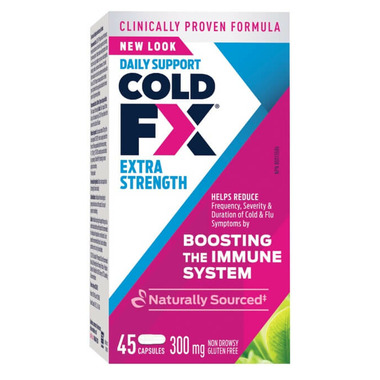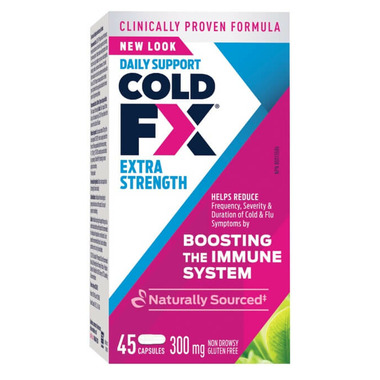 Each capsule of COLD-fX is certified to contain 200 mg of CVT-E002, a proprietary ChemBioPrint (CBP) product containing greater than 80% poly-furanosyl-pyranosyl-saccharides extracted by an aqueous method from Panax quinquefolius (North American ginseng, root).

Non-medicinal ingredients: Gelatin, Titanium Dioxide, FD&C Blue #2 Lake

Recommended purpose: Helps reduce the frequency, severity and duration of cold and flu symptoms by boosting the immune system.

Recommended use: For adults and children 12 years of age and older. Take 1 capsule 2 times daily.

Cautions: Individuals requiring anti-coagulant therapy such as warfarin should avoid the use of COLD-fX. Do not use if pregnant or breastfeeding. Not recommended for individuals with impaired liver or renal function. As COLD-fX is a derivative of North American ginseng, individuals with known allergies to ginseng should avoid use of COLD-fX. Do not exceed the recommended daily dose.

Chemical Name: CVT-E002 300 mg


Emily:
more than a year ago
This product is absolutely wonderful for getting rid of the common cold. Just take as directed at the begining signs of a cold and you'll be surprised how effective it is. I was on vacation in Toronto when I got sick and a wonderful Pharmacist suggested the Cold-fx Extra Strength and stated that people were really pleased with how well it worked and eliminating a cold. It worked so well that I ordered 2 bottles since I returned home and would suggest it to anyone!
Thank you for this wonderful product.
1