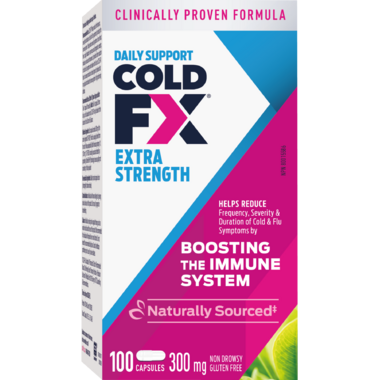 Description
COLD-FX Extra Strength gives your immune system an extra boost when you need it, with 50% more active ingredient per capsule than COLD-FX. To avoid coming down with a cold or flu, you can take COLD-FX Extra Strength to defend against cold and flu symptoms.
Directions:
Adults and children 12 years of age and older, take 1 capsule 2 times daily. COLD-FX Extra Strength is safe to take up to 6 capsules per day.
Medicinal ingredients: 300 mg of CVT-E002TM, a proprietary ChemBioPrint® standardized extract from the root of Panax quinquefolius (North American ginseng, 4:1).
Non-medicinal ingredients: Gelatin, natural capsule colour (chlorophyllin, titanium dioxide).
Caution: Individuals requiring anti-coagulant therapy such as warfarin should avoid the use of COLD-FX. Do not use if pregnant or breastfeeding. Not recommended for individuals with impaired liver or renal function. As COLD-FX is a derivative of North American ginseng, individuals with known allergies to ginseng should avoid use of COLD-FX. Do not exceed the recommended daily dose.
Highlights

Shipping & Returns
Unfortunately, due to the nature of this item, we cannot accept any returns.
We are only able to ship this item to Canadian customers.
Click here for more information