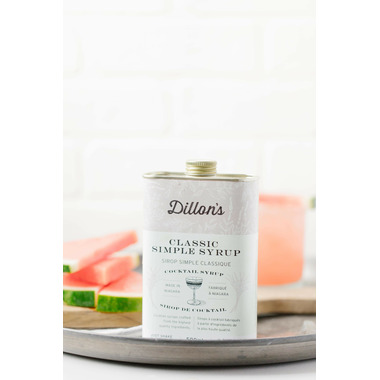 Description
Cocktail syrups crafted from the highest quality ingredients made in Niagara.
Ingredients:
organic cane sugar, water, citric acid
Shake well before use. Refrigerate after opening.
How to make a Whisky Sour:Ingredients:
20oz Dillon's Rye Whisk
loz fresh lemon juice
3/40z Dillon's Simple Syrup
2 dashes Dillon's Aromatic Bitters
1 egg white
Cocktail cherry, for garnish
Preparation:
Combine the rye whisky, lemon juice, simple syrup, bitters and egg white in a cocktail shaker. Dry shake for 15 seconds. Add ice and shake again for another 15 seconds. Strain into a vintage coupe glass and garnish with a cherry.

Spirit-Free Options:
Use as the base to infuse your own flavoured syrups with fruit and herbs that are in season. Simply add desired amount of syrup to a small pot, add a hanful of the furit or herbs of choice and heat over medium heat. Once it begins to simmer, remove from heat, let cool and steep. Strain and use your next batch of seasonally inspired gin or vodka cocktails.
Highlights

Ingredients
organic cane sugar, water, citric acid
Shipping & Returns
Unfortunately, due to the nature of this item, we cannot accept any returns.
This product cannot be shipped to Remote locations.
Click here for more information